Melania Trump Wears "I Really Don't Care" Jacket on Way to Visit Immigrant Children
She wore a jacket that said "I Really Don't Care" on her way to visit immigrant children.
---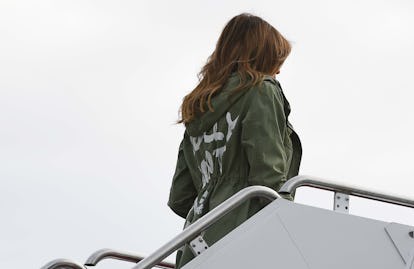 MANDEL NGAN
Questionable fashion choices are nothing new for First Lady Melania Trump, but her latest outfit is downright cruel. The Trump family matriarch left Andrews Air Force Base in Maryland to head to McAllen, Texas, to visit immigrant children, while wearing a parka that read "I REALLY DON'T CARE, DO U?" on the back.
The Zara jacket couldn't be a less appropriate choice for Trump to wear on a trip to visit some of the 2,000 children who have been separated from their families at the U.S.-Mexico border due to the government's current immigration policy. Considering all of the attention on the Trumps at the moment, as everyone from Gigi Hadid and Kendall Jenner to U.S. senators is speaking out against this policy, the jacket would be questionable even if Melania Trump wasn't on her way to visit immigrant children. At this point, the Trumps should be well aware that their attire can carry subliminal messages.
Trump ended up changing out of the jacket before meeting the children at the Upbring New Hope Children's Shelter. Instead, she wore a cream-colored jacket. It's entirely possible that once on her plane someone alerted her to the fact that the jacket could be controversial. It's equally possible that Trump never intended to wear it to the visit. Either way, the damage had been done. The damage is also directly in conflict with the reason Trump chose to make the trip.
"Her goals are to thank law enforcement and social services providers for their hard work, lend support, and hear more on how the administration can build upon the already existing efforts to reunite children with their families," her spokesperson Stephanie Grisham said. "She believes we need to be a country that follows all laws, but also a country that governs with heart." Grisham later expanded on that, saying, "While we're going through that process, she's going to lend her support and promote family reunification, and I'm sure she'll continue to give her husband opinions on what she's thinking along the way."
Mrs. Trump's spokeswoman has replied to the incident, according to ABC News' Meridith McGraw.
"It's a jacket. There was no hidden message," Stephanie Grisham told the reporter. "After today's important visit to Texas, I hope this isn't what the media is going to choose to focus on."
Trump's de facto stylist Hervé Pierre has yet to comment on the look, though he has explained his process before. "I go to Bergdorf, I go to Saks, Michael Kors, Dior," he said previously, when discussing how he anonymously shops off the rack for her. "What is challenging is when I cannot say what it is for.
Notably, Pierre also acknowledged that Trump's choices will always be dissected. "The beauty of this country is it's a democracy, so some people want to dress certain people and some people don't want to," he said. "I choose to. If you forget about the political, or whatever, that's behind it, the needs are so interesting to answer. Even if I'm not creating the clothes, it is very creative to consider how it's going to be perceived. And when you decide, you divide. I'm not always right. I make mistakes, and same for her. There's no 'How to Be the Perfect First Lady' book. You learn on the spot." As it turns out, how not to be the perfect first lady is also something you learn on the spot.