Melania Trump the Troll Resurfaced at the NATO Summit in a Sheer Dress
The first lady used the opportunity to meet with other world leaders to also get as close to wearing a naked dress as a politician can.
---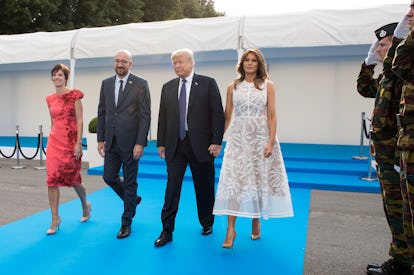 Benoit Doppagne/Getty Images
Donald and Melania Trump have officially arrived in Europe for their weeklong tour, which will see them travel to Belgium, Britain, and Finland. Soon, the attention will shift to their upcoming trip to London, during which they will have tea with the Queen in their first meeting ever—and inevitably make quite a few faux pas, given the particulars of British royal etiquette and Donald Trump's track record of offending pretty much every world leader he's come across. (He himself has already said that meeting with Vladimir Putin in Finland may be easier to navigate than his meetings in the U.K.)
At the moment, though, thoughts are still on their appearance at the NATO summit in Brussels. On Thursday morning, just hours after threatening to pull the U.S. out of the organization, tweeting comments and questions like What good is NATO?, the president suddenly reversed his position in an unscheduled press conference to say he was "very happy" with the way things were and take credit for a diplomatic victory that never happened. That's not the only reason, though, that the Trumps caused such a stir. Melania also made a contribution via her platform of choice: her outfit.
Melania's fashion while in office has been closely scrutinized—as has that of pretty much all first ladies, though her choices, including, for example, to wear notably high heels on her way to survey the devastating aftermath of Hurricane Maria in Texas, have really escalated the rhetoric to another level. As she's no doubt aware, given her habit of keeping tabs on the press, the scrutiny has now reached an all-time high; it was just a few weeks ago that she wore a parka emblazoned with the all-caps slogan "I REALLY DON'T CARE, DO U?" on the way to visit immigrant children that the Trump administration had forcibly separated from their families, which drew universal criticism ranging from the Senate to celebrities like Kendall Jenner.
For an ordinary person, this could have been the result of nearly missing a flight and stuffing anything in sight into a suitcase. For a public figure with a private charter and a communications staff who were all well aware she was about to be photographed and get involved in an international crisis, it could only be the result of an agenda. Melania's spokesperson later addressed the matter by telling reporters, "There was no hidden message," causing some to believe that she was blatantly parading her disregard for the situation, and others to point to it as a tactic to distract from the Trumps' political crisis. No matter what you think her reasoning was, there's no arguing that the whole affair was further proof that Melania has finally found herself a hobby: trolling.
All that makes Melania's choice of ensemble while attending the NATO summit even more flagrant. Rather than, say, the blazer and trousers that France's first lady, Brigitte Macron, wore, Melania stuck out from the crowd in a dress—a sheer, sleeveless design by Elie Saab—that would likely be considered inappropriate on any presidential occasion, but particularly so at an event that could determine the world's future (and happened to be during the daytime). While she did wear a layer underneath it, making it certainly less revealing than it was on the runway, the layer matched her skin tone—which is pretty much the closest a first lady can get to wearing a naked dress. She is not, after all, Beyoncé at the Met Gala.
The dress does appear more sheer in some photos than others, so it's possible that Melania simply found herself in the situation so many celebrities whose outfit or makeup appears quite different on camera than it does in real life have found themselves in before her. Still, there's no denying that the dress was attention grabbing, and it's not a stretch to assume Melania knew it would be. She was trolling the press and the public once again.
And it could have been for any number of reasons. Was Melania aligning with her husband in disregarding the importance of NATO by wearing what was essentially a party dress? Was she trying in vain to keep some of the heat off of her husband? Does she truly not care about her position of first lady, or the effects that her family has on the world? Or is she simply trying to earn some more cash? (It recently came out that she's made more than $100,000—even reportedly up to $1,000,000—off of photos of herself since becoming first lady.)
Then again, maybe she was simply trying to make sure that her fashion choices would draw attention away from the giant balloon of her husband as a baby in diapers that will fly over Parliament tomorrow when they visit London.
Related: Are the First Ladies of the World Uniting to Spurn Donald Trump?
From Melania Trump to Jacqueline Kennedy, a History of First Ladies' Inauguration Day Style
First Lady Mamie Eisenhower, 1957

Getty Images