Queen Elizabeth II Is Finally Meeting Melania and Donald Trump at Windsor Castle for Tea
They're meeting at Meghan Markle and Prince Harry's wedding venue.
---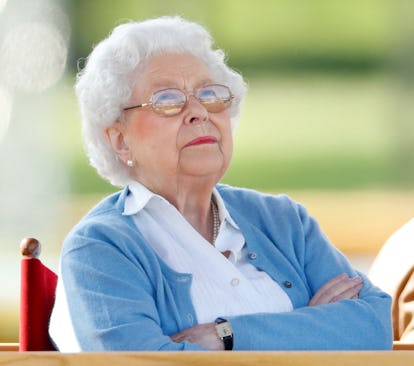 Photo courtesy of Getty Images.
Donald Trump has been president for a year and a half, but he has yet to meet Queen Elizabeth II. This Friday, however, that will change when the two, along with the First Lady Melania Trump, have tea. Notably, the Trumps will be meeting the Queen at Windsor Castle, not Buckingham Palace, which was recently the wedding venue of Meghan Markle and Prince Harry.
Of course, the Trumps did not attend the event; nor did any other former U.S. presidents, most likely because the royal family follows a rule that prohibits its members from taking a political stance. Still, Queen Elizabeth has hosted 11 presidents since taking the throne on June 2, 1953. (The only president she didn't meet was,Lyndon B. Johnson.) She has invited far fewer of them to Windsor Castle—just Ronald Reagan, whom she rode horses with in 1982; George W. Bush in 2008; and Barack Obama in 2016, as Vanity Fair notes.
The trio will be having tea at Windsor Castle, a meeting that Buckingham Palace described in a press release as a "working visit." (Read: not an official state visit.) They'll be greeted by a royal salute from a guard of honor and the U.S. national anthem, which, hopefully, Trump will brush up on the lyrics of in preparation.) That is, after the Trumps are greeted upon arrival in the city by a 20-foot orange cartoon of "Trump Baby" in a diaper, which will be soaring above Parliament Square Gardens on Friday morning.
Apparently, the Trumps "are really looking forward to meeting" Queen Elizabeth, as U.S. Ambassador Robert "Woody" Johnson said in a recent statement. If Trump is aware of royal protocol, maybe that's because the Queen is not supposed to give her personal political opinions. Trump, on the other hand, has many political opinions about the U.K., such as the ones he delivered this past Tuesday at the White House to reporters. He went on to explain that he thinks the U.K. is currently in "turmoil." "So I have NATO, I have the U.K. which is in somewhat turmoil, and I have Putin," he said, per The Guardian. "Frankly, Putin may be the easiest of them all. Who would think! Who would think. But the U.K. certainly has a lot of things going on." That will be even more true come Friday.