Melania Trump Has Made Over $100,000 Off of Photos of Herself Since Becoming the First Lady
She's pocketed quite the sum thanks to royalties from her photos.
---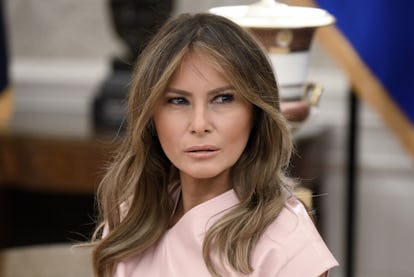 Olivier Douliery-Pool/Getty Images
We still may not know the details of President Donald Trump's tax returns, but we now have a better picture of his family's financial standing, including Melania Trump. As it turns out, the first lady has made quite the profit since earning that title: at least six figures, according to a new report by NBC News.
Ever since her husband's inauguration, the Trump family matriarch has raked in between $100,000 and $1 million from royalties of her photos alone, on Getty Images. No, the picture above is not one of them.
Some of the photos bringing in that salary for Trump are from a batch taken well before the Trumps transitioned into politics.Twelve years ago, celebrity photographer Regine Mahaux began documenting the Trump's garish decadence, including their gilded New York City apartment. Mahaux, who has also photographed Salma Hayek, Robert De Niro, and Belgian royals, has worked with the Trumps throughout the presidential election and, even, afterwards. The photographer took Trump's first portrait as a first lady, which was divisively received due to its airbrushed aesthetic which highlighted Trump's diamond ring.
Interestingly, the photos which Trump has been receiving royalties for have a requirement listed on Getty Images that dictates they should only be used in "positive stories only," as NBC notes, adding one more controversial layer to a situation that's unprecedented. "It's not unheard of for celebrities to earn royalties from photos of themselves," as NBC points out, "but it's very unusual for the wife of a currently serving elected official."
As for the photographer, Mahaux has opened up about her relationship to the Trumps before, telling Frenchly, that she believes Trump is "a strong woman, hardworking, generous and kind, who speaks five languages." "He's certainly a provocateur, but she's not like that," she said of the president. "She's in his shadow, but she has the same power. She's sublime."
Mahaux has also defended the Trumps, saying, "I like working with the family's image—it speaks to me, it inspires me. I have a lot of freedom and responsibility. They let me express myself as an artist. The Trumps are far from the people I see in the press. They are very hardworking and always take things seriously. I know that the European press is very hard on Donald Trump—I don't know if it's the same in the United States. They attack him with a lot of things I just don't see."
Though she has yet to disclose her own views. "I don't do politics—I serve the people who entrust me with their image," she said. "I'm an artist. Who am I to decide? The Americans will decide who they want to be President of the United States. I like him as a human being. His policies, I can't judge." Perhaps it's harder to judge those policies when you're not one of the 2,342 children separated from their families at the border.
Related: Kim Kardashian Claims One Family Member Doesn't Want to Be a Kardashian Anymore