Chrissy Teigen, Laura Dern, and All the Celebrities Who Marched to Protest Trump's Immigration Policies
On June 30, people across America took to the streets, including Chrissy Teigen and Laura Dern.
---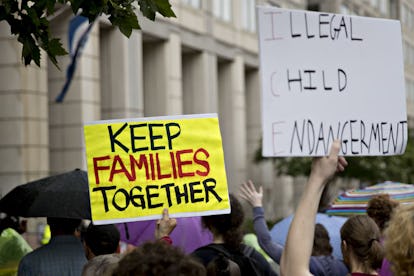 Bloomberg
The same day that Broadway stars performed in a benefit concert to help people detained or struggling at the US-Mexico border, thousands of people took to the streets to protest the Trump administration's "zero tolerance" immigration policy and the practice of separating families at the border, which, though it has been recently curbed through Trump's executive order, still has left many many, many families that have yet to be reunited.
Among those who attended the nationwide Keep Families Together protests and marches included celebrities, some of whom even spoke at rallies, like One Day at a Time star Justina Machado and Jane The Virgin scene-stealer Jaime Camil, who both addressed the crowd in Los Angeles, per Deadline.
Here, take a look at the many notable people who attended marches or posted about the gatherings on social media:
Laura Dern
Padma Lakshmi, Amy Schumer, Alysia Reiner, and Kerry Washington
Laverne Cox
Julia Louis-Dreyfus
Lin-Manuel Miranda
Miranda has spoken out about immigration before, both in statements and through the words of his characters. "Immigrants: we get the job done!" is a fan-favorite line from Hamilton, his musical about founding father Alexander Hamilton, who was, famously, an immigrant from the West Indies. (Also, look at that dog!) At the march, he met up with Alicia Keys and America Ferrera:
Jaime Camil and Chadwick Boseman
John Legend and Chrissy Teigen
Legend and Teigen both took the stage, new baby in tow. Because, well, families belong together.
Ellen Page
Jenni Konner
Anne Hathaway
Alexandria Ocasio-Cortez
Cortez recently won the Democratic primary in the Bronx and Queens, and is poised to become the youngest woman ever elected to the House of Representatives. She's only 28 and has never held public office before, but won the Democratic nomination by a pretty wide margin.
Sarah Sophie Flicker
Debra Messing
Connie Britton
Mindy Kaling
Natalie Portman
Portman also launched a petition when the issue of family separation first came to national attention, and seems particularly devoted to the cause.
Uzo Aduba
Alec Baldwin
Olivia Wilde
Earlier this week, a number of celebrities attended a rally near an immigration checkpoint in Tornillo, Texas, close to the border. Aquaman star Amber Heard, Crazy Rich Asians' Constance Wu, Pitch Perfect's Anna Camp and young star Bella Thorne braved the summer sun to stand up for immigrants:
The Affair's Joshua Jackson attended as well.
As did Happy Endings star Casey Wilson.
Lena Dunham, currently working on her new HBO series Camping, starring Jennifer Garner, marched with Oscar-winning actress and activist Mira Sorvino.
And Scandal's Katie Lowes.
We don't know if the matching white tops are part of the protest or just a smart way to stay cool in the desert, but we're impressed with the turnout!
Related: I Am an Immigrant: Fashion's Biggest Names Issue a United Statement