Meet the Woman Behind the Net-A-Porter for Kids
Nathalie Genty of Melijoe is the queen of all things chic for children.
---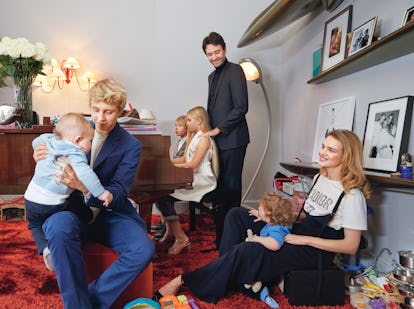 Photographs by Patrick Demarchelier, Styled by Jenke Ahmed Tailly
What does a French fashion enthusiast and web entrepreneur do when she can't find chic clothes for her first-born son? Launch a luxury online childrenswear boutique, of course. In 2007, Nathalie Genty launched Melijoe, an online children's fashion mecca that makes a carefully selected edit that is as chic and trendsetting as sites that exist for adults, making it one-stop destination for all things kids fashion. The site offers the classic Parisian children's brands, like Bonpoint and Petit Bateau, as well as all the favorite high end cult favorite brands like Marni, Burberry, and Moncler. Want your kid in Gucci's brand new tiger adorned sweater or Chloe's elegant bohemian organza and lace dress? No problem. Here, Genty breaks down her personal style and reflects on the site's beginnings.
What was the catalyst to starting thesite?
At the birth of my first child, I discovered kid's fashion, which I was not familiar with at all. I realized there was real fashion and trends for kids and brands with a strong DNA. With that, I decided to tell this story and gather all this inspiring brands on one platform. I created the site of my dreams and one where all these brands could be found in one place. And I quickly realized we were on to something because customers came and stayed loyal to us.
How do you curate the selection on the site?
We offer a unique customer experience at Melijoe by creating a very edited assortment from over 150 designer, as well as more accessible, brands for our customers, and changing the site up often. This keeps it interesting and customers are consistently curious to see what we will offer next. Every piece that we offer, we truly love. The Melijoe aesthetic encourages mixing and matching designer brands, styles and trends to represent an individual rather than the obvious head to toe matching. We love to see a Gucci dress paired with Converse trainers or biker boots.
Who is the Melijoe mom?
She is a true individual, and effortless, confident and eclectic. She loves and appreciates fashion and isn't afraid to take risks. The Melijoe mum understands that style is about personality and not just about a logo. She is worldly and open-minded.
What is your daily wardrobe?
I can almost always be seen in a Gucci, Stella McCartney or Miu Miu dress partnered with pair of Balenciaga sneakers.
What is your most treasured item in your closet?
My Balenciaga sneakers…I run around all day long and like to be efficient, so I have to be comfortable but also feel great about what I am wearing. They are so versatile and can be worn with dresses or pants. I have them in all colors.
What is your go-to holiday party outfit?
I really do not have one. But I seem to favor beautiful, feminine flowing dresses.
What are you coveting this season?
Erdem! My new crush. I absolutely love the collection with H&M and the capsule collection on Matches Fashion.
Where are your favorite places to shop and why?
It really depends where I am and my mood. If I am online, which I am a lot, I got to Matches because their user experience is seamless and they have a similar philosophy to editing their assortment as Melijoe. There are so many amazing, small, independently owned boutiques in Paris. Selfridges is my go-to when I am in London. And Melijoe for kids, obviously!
What is the best piece of style advice you've ever received?
Dress according to your personality and not to the rules of fashion. I especially see this with my kids. I have five kids and they all dress differently according to personality and mood. Related: Meet the Moms Behind Seoul's Most-Photographed Street Style Kids
Fall Fashion Advice from a Very Young Stylist