Zendaya, Kirsten Dunst, And Alexa Chung Escape Reality At Erdem x H&M's Fantastical Los Angeles Launch Party
The event included a lush garden runway show and a performance by Grimes.
---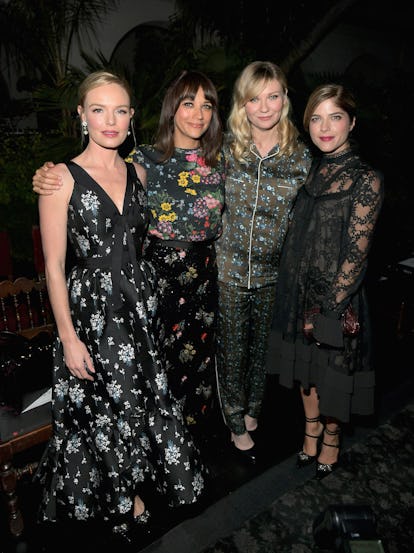 Charley Gallay
Last night, the highly anticipated Erdem x H&M collaboration made its official catwalk debut in a botanical oasis with host and designer Erdem Moralıoğlu presenting a whimsical, joyful show full of his signature florals—quite an escape from the current outside world.
"We live in a very strange time, a very dark time," said Moralıoğlu inside the Ebell of Los Angeles, home to a women's club founded in 1894. "The idea of fluidity between women and men, informal and formal, things that have a human hand feel really important right now. Individuality is very important."
The designer was fascinated by the exchange between womenswear and menswear, the latter of which he presented for the first time.
"There is something about this idea of creating a collection with an ambiguity to it," he said. "There are so many clothes that are women's or men's or vice versa, this idea of mixing it in a beautiful way, not in a gimmicky way, that felt real."
Unsurprisingly, of all the looks, actress and singer Zendaya said she was coveting the menswear pieces most.
"They caught my eye," she said after the show. "It was beautiful. I really enjoyed it. And I love when high-end and affordability meet."
Sitting front row were Kirsten Dunst, Rashida Jones, Alexa Chung, Kate Bosworth, Selma Blair, Taylor Kitsch, Liz Goldwyn, a friend of Moralıoğlu who stood out in an upcoming and previously unseen pre-fall number, and Ahna O'Reilly.
"It's so equal parts gothic and romantic, but edgy and playful, this very fine line between feminine and strong," said O'Reilly of the collection. "I'm absolutely obsessed with these floral prints. They feel modern and romantic at the same time."
For Moralıoğlu, the narrative was clear from the beginning.
"I loved the idea of creating a collection that felt English and quite eccentric, this series of different characters, something that felt cinematic," he said. "The first reference point really was actually a music video that I was obsessed with when I was in high school, 'Being Boring' by Pet Shop Boys. It's this English country house where these young people take over. There's boys in tuxedos with T-shirts and girls in gowns and sneakers. Girls in boys' clothes."
The collection also marks the first collaboration for the designer.
"I think the ultimate thing that we both wanted to get across was the idea of creating a collection that has absolutely nothing to do with this idea of what fast fashion is," he said alongside H&M creative director Ann-Sofie Johansson. "It was about creating beautiful pieces that have a permanence to them. I think that's the basic, being able to offer that in a way that's accessible to a lot of different people. It feels really good. It feels modern."
"Often, I'm asked why I work with flowers and lace," he continued. "They're actually the codes of femininity. There's a language of things that are feminine I find fascinating. I have a twin sister, so I grew up with this idea of femininity being something that was powerful, something that was equal. I never ever equated femininity with something that was ever weak. Prettiness or the idea of femininity is a strength, and I found that so interesting to apply to men as well. There's a tremendous power in women."
Related: Model Grace Hartzel,the Quirkiest Fashion Darling of the Moment, Reveals Her Style Tips
Zendaya's Favorite Birthday Featured a Very Surprising Homecoming