H&M Announces Its Latest Design-Collaborator Potion: Erdem, with Baz Luhrmann
After Kenzo x H&M, directed by Jean-Paul Goude, the Swedish high street brand has unveiled its latest design partnership.
---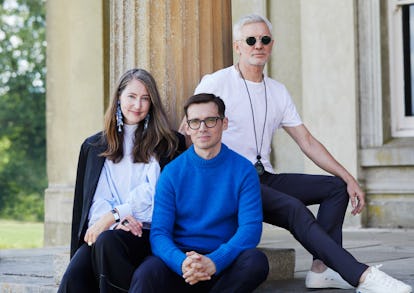 Courtesy H&M
Swedish high street brand H&M has recruited a dizzying number of name-brand labels to design capsule collections: Karl Lagerfeld, Lanvin, Isabel Marant, Versace, Maison Margiela, Balmain, and, most recently, Kenzo's Carol Lim and Humberto Leon have all created capsule collections for H&M, offering a more accessible alternative to their ready-to-wear lines.
This fall, British designer Erdem Moralioglu will add his name to the roster. H&M announced early Thursday that Erdem is slated to be the brand's next designer-collaborator, with a capsule collection to debut Nov. 2. It presents the designer the opportunity to reach a mass audience and venture into categories he hasn't previously.
"For Erdem x H&M, he'll reflect and reinterpret the design themes from some of his most celebrated collections, playing with prints, textiles, and the delicate craftsmanship that have made his name," a press release accompanying the announcement revealed. "He has created an enchanting world full of beauty, delicacy, and rich details," said Ann-Sofie Johansson, H&M's creative advisor, in a statement accompanying the release. This means a riff on his womenswear designs, which take cues from historical periods (recent collections have drawn inspiration from the Ottoman Empire and a shipwreck dating to 1642), in addition to Moralioglu's first-ever menswear collection.
"The menswear informs the women and vice versa; I'm thinking of my sister wearing a tweed jacket over a tea dress and trainers," Moralioglu told Vogue, "and what our parents were wearing when they met in the '60s."
Last year, Kenzo and H&M feted their collaboration with a blowout dance party-cum-runway show art directed by Jean-Paul Goude, who also directed the campaign starring Chloë Sevigny, Anna of the North, Chance the Rapper, Charli XCX, and others.
This season, Erdem x H&M will get similarly highbrow treatment: Baz Luhrmann has been tapped to direct the campaign ("to tell the story," the press release read). Moralioglu called Luhrmann "one of the most important storytellers of our time" in a statement accompanying the announcement.
A teaser that premiered early Thursday offers a preview of what to expect come Nov. 2, when the collection will be unveiled. The Luhrmann-directed clip, a teaser of the short film that will accompany the launch this fall, looks fresh out of Atonement, with models clad in identifiably Erdem designs running in slow-motion across English pastures just outside London. It seems a wardrobe fit for Keira Knightley is en route.
Claire Foy was very, very pregnant when she auditioned for The Crown: