Melissa Kaye's Technical Approach
The up-and-coming jewelry designer is one to watch. Here, she chats about her background, aesthetic, and what's next for her eponymous label.
---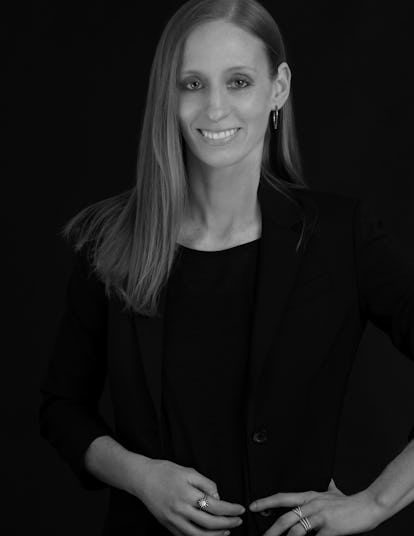 An Unlikely Start: "I received an undergraduate degree in computer science and engineering from MIT and then a master's degree in computational finance from Carnegie Mellon University," she says. "After school I continued down this track in a variety of roles at Goldman Sachs as a quantitative strategist. Finally, after 10 years of intense technical/financial work, I decided to take a different direction and pursue a lifelong interest in jewelry. I started my foray into jewelry design by completing the two-year jewelry design program at FIT, studying both design and process/bench work. I launched my collection shortly thereafter."
Design Philosophy: "Given my mathematical background, I find beauty and inspiration in geometric and natural patterns," explains Kaye. "I work to incorporate these elements throughout my line, bringing a modern edge to classic shapes. I'm driven by the notion that function must be part of the design, not an afterthought. Pieces are engineered to cleverly capture form and function, highlighted by many subtle and unexpected details. The goal is to make each piece in the collection striking at first glance but also demand a closer look to discover additional complexities and levels of abstraction."
What's New: "The Tori Flower Ring, is the first ring I've added to the collection with a larger center stone," Kay says. "I love how this design came to life and how this ring looks from all angles. It was initially designed to be a cocktail ring but it's also getting a lot of attention as a stunning bridal piece. It's a really fresh take on a traditional style.
Photos: Melissa Kaye's Technical Approach