Members Only, A Techno Den in Bushwick to Rival Berlin's House Scene
Brooklyn hot spot "Member's Only" may have grown by word of mouth, but now the secret's out.
---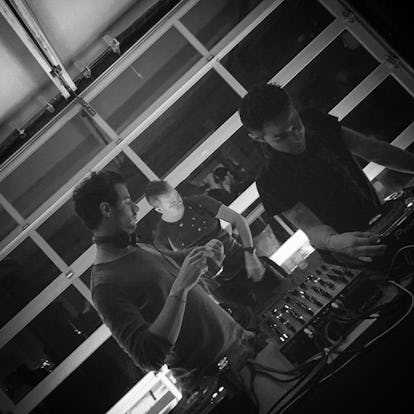 It's 2am on a Saturday night (or what's technically a Sunday morning), and while most people are calling it quits, Members Only is just waking up. Located on a desolate – what would otherwise be silent – street, you can hear the faint thump of deep base emanating from behind an iron door with a cross-armed man standing guard. Welcome to Members Only: a techno haven that emerged in Bushwick last year. The hours of operation are inconsistent, sometimes opening at 2am, sometimes earlier; sometimes they project movies when the sun is about to rise and music reverberates until late afternoon. You never really know what you're going to get, and that "TBD" nature is part of its charm.
The venue has made a name for itself (albeit a discreet one) for booking top international underground electronic and deep house acts such as Swedish DJ Sebastian Mullaert and Berlin-based Philip Jung of M.A.N.D.Y. Members Only is as close to the non-stop, 48-hour weekend in Berlin as you'll get in the States—without the line. While you might expect the door to be tough, it's nothing like Berlin megaclubs such as Watergate or Berghain, the latter of which you can easily wait in a line over two hours long, only to reach the front and be denied entry because the bouncer doesn't like your vibe. This door is far more democratic with zero pretension. Chances are, if you've made the journey, access is more or less guaranteed. Once inside you can dance with your friends until you see the sun rise through the nearly transparent ceilings and lie down on the couches if you find yourself in need of a twenty-minute power nap (an act I've certainly been guilty of). Call it the pleasure dome.
Members Only, A Techno Den in Bushwick to Rival Berlin's House Scene
Door Easier earlier on in the night. Go with a group of friends close to when it opens at 2am.
Calling Card A non-descript, empty block on Ingraham. Look for the cross-armed man.
Music Deep house and electronic. Vocals are kept to a minimum.
Tribes DJ's and electronic music enthusiasts.
The Basics Open Saturday night (Sunday morning), from 2am to 3pm Sunday afternoon.