Featherweight Champ
Francis Mertens, jewelry's titan of titanium, brings his delicate designs to Bergdorf Goodman.
---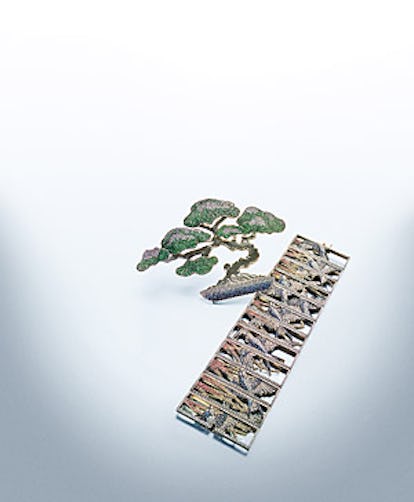 With trucking and titanium making up the bulk of his résumé, Francis Mertens seems more likely to be working on Bergdorf Goodman's loading dock than its fine jewelry floor. Yet that's precisely where the Belgian designer was when his light-as-a-feather titanium jewelry collection made its exclusive Stateside debut at Bergdorf's in November.
Seven years ago Mertens packed up his Antwerp-based trucking business in favor of a fancier pursuit: jewelry done high-tech style. Since then, he has become the industry's go-to guy for titanium. His company, C&C Jewelers, manufactures for a host of high-end houses, the names of which he prefers not to divulge, and he also designs a signature collection under his name. He's one of the few designers willing to tackle the painstakingly unpliable metal and oversee the team of engineers, artisans and 3-D computer software experts required to master it. Indeed, one brooch broke 14 times before it was finished, but most agree that the results are worth the wait.
Among the approximately 55 pieces (many of them one of a kind) Mertens has crafted for Bergdorf's are a bonsai-tree brooch that, though encrusted with more than 15 carats of diamonds and tsavorites, weighs just over an ounce. There's also a diamond and sapphire titanium bird necklace that, at about three ounces, has Mertens feeling particularly proud. "We've been able to draw lines on the titanium so you really see the outline of the bird—it's like a painting," says Mertens. "It's not possible in gold, silver or platinum." The fact that each necklace is custom-fitted to its owner's neck makes the jewelry even more distinctive.
No doubt Mertens's customers are far more interested in a gem's glitzy, lightweight effect than the less sexy scientific process behind it. But Mertens delights in those details. "It looks easy," says Mertens. "But you cannot compare it with other, traditional jewelry. The techniques I use, the colors, the light and the material make it more special. You have to explain the difficulties with the piece in your hand."