Dual In The Sun
It actors Mia Wasikowska and Michael Fassbender on scary movies, screen sex, and their new film, Jane Eyre.
---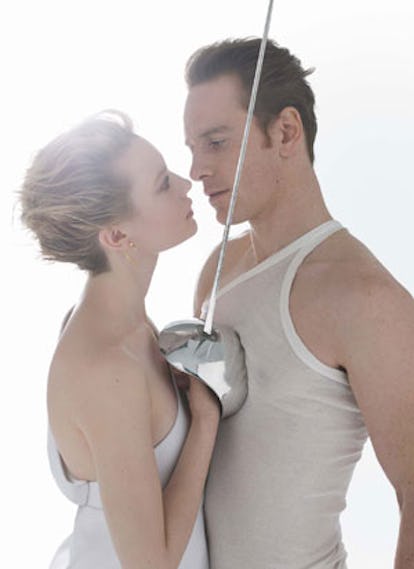 Mia Wasikowska, with her almost spectral elegance and innate grace, is somehow the love child of Cate Blanchett and Tilda Swinton. This otherworldly quality made her the perfect actress to portray out-of-time heroines like Alice (in Wonderland) and, most recently, the title character in the new Jane Eyre. Though 21, the Australian actress is convincing as a modern teen in The Kids Are All Right and the upcoming Restless, directed by Gus Van Sant. She often has a faraway, slightly unknowable look in her eye: Wasikowska and her characters seem to have secrets, which fuel the mystery of both.
What was the first movie that made a big impression on you? I think it was Bambi. I remember being traumatized by the experience—I was so upset when the mum died in the movie. There were a few films that got me interested in acting and cinema. I'm Polish, but I grew up in Australia. My mom used to have a lot of European cinema playing in the house, so I'd catch bits and pieces of films. I really, really loved Krzysztof Kieslowski's films, especially Blue and Red.
Do you speak Polish? A little bit but not very well. When I was eight years old, we lived in Poland for a year. I was just there about three weeks ago—it definitely seems very familiar. I am at home there, but I feel like I could live anywhere now.
Perhaps that's because you've been on movie sets all over the world from the time you were a teenager. Did you get your start in school plays? I did a few amateur theater productions when I was young, but I was really shy. I didn't like drama classes, so it has always surprised me that I ended up in films. I'd always done dance. I was eight when I started ballet. I was really serious—I danced about 35 hours a week. I finished with dance when I was about 15.
All of a sudden? Well, I started not enjoying ballet, because it was so much about physical perfection. What I like about film is it explores imperfections. That was something that really attracted me.
When I decided to pursue acting at 15, I heard that you had to have an agent to do film and television, so I did a Google search for acting agencies in Sydney. I hounded one to take me on and started auditioning. I did some films in Australia, and then I started working in America on [HBO's] In Treatment when I was 17.
You played Sophie, a 16-year-old Olympics-bound gymnast who was in a state of emotional anguish. Although I'm not particularly troubled myself, I do have a lot of empathy for troubled characters. When it came to the last episode of In Treatment, I was a mess. That character was like my friend—I was in another country, away from my family—and then she was gone.
You've embodied two very famous characters: Alice, in Alice in Wonderland, and now Jane Eyre. Was it difficult to play such icons? Alice is beloved, so that was a responsibility. I did about five auditions for Alice before I got the role.
Did you have to wear a corset as Alice? Yes—for two scenes, and it was very painful. But now, having done Jane Eyre, I realize the Alice corsets were sissy corsets. The corsets I wore in Jane Eyre were incredibly painful. Ballet hurts, but it's more like your feet are killing you. With a corset on, you can't breathe properly.
But does wearing the proper costume help you get in character? Absolutely. It's the last piece of the puzzle. Once you get in the costume, it's like, Okay, this is who this person is. With Jane Eyre the corset helped me understand the repression and pain of the character.
You have a natural sweetness—do you think anyone would ever cast you as anything but a heroine? I would love to play a villain. I'll have to learn to seem more diabolical.
——
Michael Fassbender is the movie star as chameleon. In the past few years, he has been seductive and menacing in Fish Tank; suave and wry in Inglourious Basterds; and, in the new Jane Eyre, he casts a unique spell as the cloudy, mercurial, and doomed Mr. Rochester. For Hunger, his first major film role in 2009, the 34-year-old Irish actor lost 40 pounds in order to transform himself into Bobby Sands, the IRA activist who led a 1981 hunger strike during his incarceration in a Northern Ireland prison. "When you stop eating, your mind changes," he told me. "There's a thin line between control and madness. I like characters that walk that line."
You are very young to play Rochester in Jane Eyre. Did you love the book? Or were you just intrigued by the part? I'm probably 10 years too young for Rochester, so I went for a Byronic sort of hero. I didn't read Jane Eyre in school, but my mother and sister were always talking about it, and that was a big reason why I did it. I didn't have a preconceived idea of Rochester—I just saw him as encapsulating so many interesting elements: a shady past, intelligent, self-destructive, destructive, passionate. And he has a terrible secret. I'm curious to see what my mother and sister think of my Rochester.
Did your mother get upset when she watched you starve in Hunger? Yeah, she did. Also, I die [Laughs]. The makeup artist on the movie I'm doing at the moment said, "God, all you do in your films is dying. That's your thing." So maybe I'll have to start saving lives. Or living, at least.
Is it harder to do a death scene or a sex scene? It depends. Sex scenes can be quite awkward. As a guy, the first thing you want to do is make sure you're not taking advantage. You don't want the girl to feel like you're getting a free feel or something. I try to make a fool of myself in one way or another to lighten the mood and then just go for it, because you don't want to be doing take after take. As for dying—to not play like you're dying is the way to go when you're dying in a movie. I think it's best to look like you're about to fall asleep.
You just finished portraying a superhero, Magneto, in X-Men: First Class. What is your superpower? I can manipulate metal. I practiced every day with a spoon in my kitchen. I did my Uri Geller.
And? It didn't work. I was really upset. I was convincing myself. I was like: It bent! Did you see that? It bent a little bit! There was no one else in the room with me, though. When I was a kid, I thought I was Superman. I still do [Laughs]. When I was six I thought I could hear a buzzing in my ear at night, and I thought it was Krypton calling me home. I never got up, though. I was too lazy.
If you could choose to be invisible or to fly, which would you pick? Fly. I'd like a tail, though. I'd like to be one of those Indian gods that's like a flying monkey man. I'd like a long tail.
That sounds scary. Do monsters in movies frighten you? No. Real-life threats frighten me more. Growing up, the movie that scared me most was Jaws. I sound like such a mama's boy—my mother told me not to watch it, that I'd have nightmares. But I watched Jaws anyway. And that night I was lying in bed with no water anywhere near me, and I was really upset. And whenever I'm out at sea, I am terrified of a shark attack. But the movie that created the most lasting fear for me was The Omen.
Were you raised Catholic? I was. I was head altar boy.
When was the last time you went to confession? A long time ago. I was always a bit confused about the idea of confession, even as a young boy. Everyone said: "God is always with you. You can talk to him." So now I talk to God directly. There's no buffer.
Mia Wasikowska and Michael Fassbender in Jane Eyre
Wasikowska wears Balenciaga by Nicolas Ghesquière's serge asymmetrical sleeveless top. Shaun Leane earrings. Fassbender wears Rick Owens's cotton tank top.

Beauty Note: Bare arms stay as smooth as silk with Kanebo Sensai Cellular Performance Body Contour Concentrate.

Photographer: Jean-Baptiste Mondino Stylist: Lori Goldstein
Fencer wears Ann Demeulemeester's leather pants and boots. Alexander McQueen's ostrich feather and silk dress. Lee Hale earrings, Alexander McQueen shoes.

Photographer: Jean-Baptiste Mondino Stylist: Lori Goldstein
Nina Ricci's silk tulle and ostrich feather top; Chloé's tulle skirt; Rosamosario's feather and tulle dress with studded crystals (worn underneath). Shaun Leane earrings, Urstadt Swan mesh sleeves, Repossi ring (on right hand), Loree Rodkin ring (on left hand).

Beauty Note: Locks won't fall flat with John Frieda Luxurious Volume Anytime Volume Refresher.

Photographer: Jean-Baptiste Mondino Stylist: Lori Goldstein
Dolce & Gabbana's linen vest and cotton pants.

Beauty Note: Battle dryness with Lubriderm Men's 3-in-1 Lotion. Styled by Lori Goldstein.

Hair by Recine; makeup by Aaron De Mey for Lancôme; manicures by Alicia Torello. Set design by Stefan Beckman; retoucher: Stéphane Virlogeux at Janvier Paris. Photography assistants: Edwige Bultinck and Joshua Laurits. Fashion assistant: Sarah Benge. Special thanks to Tim Morehouse.

Photographer: Jean-Baptiste Mondino Stylist: Lori Goldstein
Mia Wasikowska and Michael Fassbender on W's April 2011 cover.

Photographer: Jean-Baptiste Mondino Stylist: Lori Goldstein
Mia Wasikowska on W's April 2011 cover.

Photographer: Jean-Baptiste Mondino Stylist: Lori Goldstein