Mica Arganaraz Drinks Lots of Water, Smokes Cigarettes
The model reveals her beauty secrets.
---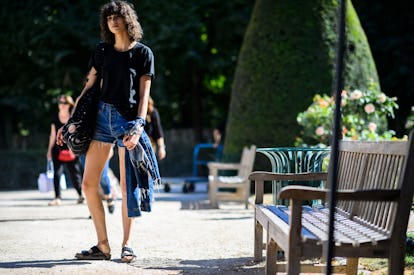 Model Mica Arganaraz, who appeared in W's September 2014 issue, has the effortless off-duty thing down pat. Here, she answers our questions about her personal style, beauty routine, and more.
Your look: I dress like a boy.
Daily routine: Wake up, coffee with a croissant on my balcony, go to work if I have to, play the guitar, watch a movie, read my book, it depends I don't have a routine life.
Exercise regime: Swimming.
Beauty essential: Water.
Skincare secret: Water
The Secret to Model Perfect Hair
Day to night addition: Red lips.
Manicure or pedicure: Manicure
Pilates or yoga: Yoga.
Best advice from mom: Eat before drinking.
Necessary splurge: Cigarettes
Drugstore favorite: Oscillococcinum.
Fragrance of choice: Jasmine oil.
Beauty icon: Gia Carangi.