Michael B. Jordan Is Coach's First Male Campaign Star
He's the brand's first male campaign star.
---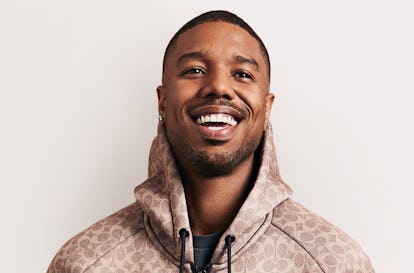 Coach
Few are having a better year than Michael B. Jordan. After starring in the historical box office hit Black Panther, the actor is making history once again—this time as the first male campaign star for Coach. Jordan is joining Selena Gomez and the rest of the Coach family as the global face of men's ready-to-wear, accessories and fragrance, starting with the Spring 2019 season.
The collaboration, which also includes "special design projects with Creative Director Stuart Vevers," was unveiled today. In the first looks at it, Jordan seems like he couldn't be having more fun. He sports a logo-centric hoodie by the brand with a big smile.
Jordan announced the news to his seven-and-a-half million Intagram followers today, sharing a photo of him playing around with the camera. "With any creative endeavor, it's all about finding the right fit," he wrote in the caption of the photo he shared. "My next role, the face of @Coach men's. Excited to work with @StuartVevers and the entire Coach fam. Good things on the way. ?"
Vevers, likewise, complimented Jordan in a statement, saying, "Michael is cool and authentic, and he really embodies the Coach guy. I've had the chance to get to know Michael over the last couple of years. He always looks great in Coach, so it felt really natural to build our relationship."
Between his Coach campaign and the upcoming Creed II, Jordan's profile is poised to get even bigger in the near future. But he's not ready to coast on his fame just yet, as he joked to Men's Health earlier this year. "Now I just have to learn how to rest," he said, kiddingly. "This moment I'm going through right now, I've worked my whole life for it. I got here and things are really starting to move. Now all my wants and ideas, I feel like anything can happen. It's crazy. Take a rest? I'm like, why I gotta rest now? I just got here. Can't stop now!"