Michael B. Jordan Developing Fahrenheit 451 Remake Just in Time for Dystopian Trump Era
The adaptation couldn't be more timely in the age of Trump.
---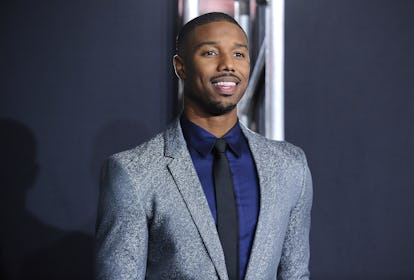 Jason LaVeris/FilmMagic
HBO is developing an adaptation of Ray Bradbury's particularly timely novel Fahrenheit 451, with Michael B. Jordan and Michael Shannon set to star, Variety reported. Jordan will also serve as an executive producer for the movie, along with his production company, Outlier Productions.
Fahrenheit 451 is a dystopian novel that tells the story of a fireman, Guy Montag, whom Jordan will portray. The book envisions a world in which printed books are illegal and television has taken over. Montag's job as a fireman is to destroy books, which he does without objection—until a series of actions inspire him to question his society and pick up a book himself. Shannon will play Beatty, a fireman captain and mentor to Montag.
This adaptation comes at a curious time, as many would argue that modern technology has allowed iPhones, the Internet, TV, etc., to overtake the printed-book industry. Not to mention the fact that our President Donald Trump's latest favorite book is almost completely devoid of words, and he has a noted habit of seeming to get a lot of information from Fox News.
This upcoming film is not the first adaptation of Bradbury's classic novel. A movie was made based on the book in 1966; Bradbury adapted the story into a play in the 1970s; and a computer game and a graphic novel have been made based on his book.
Ever since Fahrenheit 451 was first released, it has drawn comparisons to George Orwell's 1984, another dystopian novel. 1984 became popular again earlier this year, when Kellyanne Conway invented the phrase "alternative facts." The book tells the story of a totalitarian regime that controls the minds of its people using a language called "doublespeak," which sounds eerily similar to Conway's addition to the vernacular.
Related: The Handmaid's Tale's First Full Trailer Is Here, and It's Chilling
Michael B. Jordan Reveals His Cinematic Crush: