Michael Chow Dishes His Culture Diet
The famed restaurateur, now 77, has a taste for iPads, Instagram, and YouTube.
---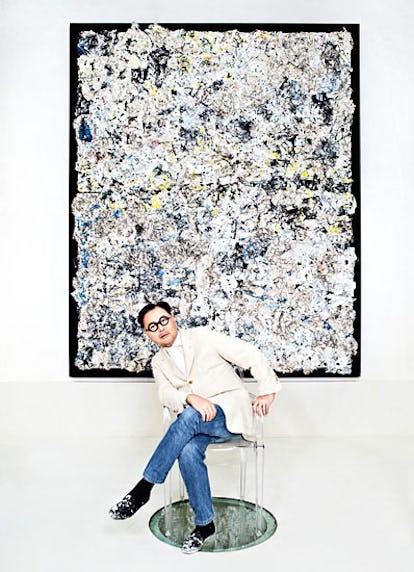 The collector and restaurateur Michael Chow started out as a painter after moving from Shanghai to London in the '50s, the city where he would launch the first of his Mr. Chow restaurants in 1968 (locations in midtown and downtown New York, Miami, Beverly Hills, Malibu and, most recently, Las Vegas followed). Later, with moves to Beverly Hills and New York came a star-studded roster of regulars, including the likes of Andy Warhol and Jean-Michel Basquiat, who'd cover their tabs with gifts of their own work. Now 77, Chow is still making his rounds and still painting, too, and he'll be reminiscing all the way back to the days he went by Zhou Yinghua at New York's DeLorenzo Gallery on Monday, May 16th for their Conversations on Design series. In the meantime, read on for his culture diet, which favors old movies and new art.
First thing you read in the morning: Financial Times.
Books on your bedside table right now: My iPad.
The TV show that's been keeping you up at night: I'm always watching art programs on YouTube.
Last movie you saw in theaters: I used to go to movies three or four times a week. Now, I don't even remember the last time I went.
Last piece of art you bought, or ogled: A Jean Dunand vase.
Last thing you saw at the theater: Beijing opera in Shanghai, China.
Last museum exhibition that you loved: "Unfinished" at the Met Breuer, and Agnes Martin at LACMA.
Favorite family recipe: My wife Eva's Osso Buco.
Noodles or dumplings: Dumplings.
Thoughts on Soylent: I prefer stepping on it then drinking on it. Those are my thoughts.
Release you're most eagerly anticipating: The vast unreleased vault of the late Prince, and Julian Schnabel's documentary.
Last song you had on repeat: Anything by Glenn Gould.
Last concert you saw live: Beatles tribute at the Staples Center.
How you get your news: The old-fashioned paper and CNN.
Favorite accounts to follow: On Instagram, Brett Gorvy and Maximillian Chow.
Last thing you do before you go to bed: Watch the Turner Classic Movies channel on my TV.
Watch W's most popular videos here:
Photos: Michael Chow Dishes His Culture Diet
Michael Chow with his own artwork by Eric Madigan Heck for W magazine, January 2013.
"Michael Chow" by Andy Warhol, 1984. Private collection of Michael Chow.
Michael Chow by Jean-Michel Basquiat. Private collection of Michael Chow.
Michael Chow by Michael Chow, 1959. Private collection of Michael Chow.