Donald Trump's Lawyer Michael Cohen Perfectly Demonstrates the Worst Way to Get Your Daughter Instagram Followers
Trump's personal attorney posted a shirtless photo of his daughter, then asked his 219,000 followers if they were "jealous."
---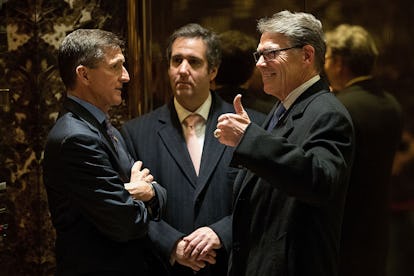 Drew Angerer/Getty Images
Donald Trump's personal attorney and spokesperson Michael Cohen is not exactly the ideal of someone you'd consider calling a supporter of women's rights; this is the man, after all, who once defended Trump from over a dozen women's allegations of sexual misconduct by simply stating that "these aren't even women [Trump]'d be attracted to." On Sunday evening, though, Cohen took a stab at refuting that stance by attempting to stand by his "Ivy League daughter," a University of Pennsylvania undergraduate named Samantha Blake Cohen, by posting an image of her on Twitter that appeared to riff on a similar photo of Edie Sedgwick relegating a man to a chair.
In this case, though, Blake Cohen, who initially posted the photo on her own Instagram, is still wearing tights and a bra, but perched instead on the edge of a bed. Still, it may seem like the beginnings of a step forward for Cohen to support a woman exercising her right to assert her agency and post a shirtless photo—until you remember that Cohen's primary client is a man with a long history of unsettling remarks about his own daughter, whom he's publicly joked about both dating, amongst other things.
In any case, it still could have been possible that Cohen had good intentions when he shared the image to his 219,000 Twitter followers, spreading the image much further than Blake Cohen's mere 6,000 or so on Instagram, which he benevolently made sure to plug in the accompanying text. Indeed, users quickly picked up on the tweet—after all, it was a bit hard to miss on Cohen's account, which is otherwise almost entirely political (other than a photo of Jeff Koons's latest monstrosity).
As you can imagine, though, the responses were swift—over a thousand within a few hours—but for the most part anything but positive, with many pointing out that while Cohen's daughter does look beautiful, the fact that Cohen, her father, posted it, was just a bit creepy considering the context. "Most fathers don't post lingerie shots of their daughters. I guess #Trump must be rubbing off on you," one said, at which point Cohen actually started jumping in his mentions, stating that the image was simply a remake of an old Edie Sedgwick photo.
Soon after that, however, any questions over Cohen's supportive intentions disappeared. "POTUS wants to date his daughter, the VP calls his wife 'mother,' and DJT's attorney posts spank-bank material of his daughter," another responded. To which Cohen's response consisted of one word: "Jealous?"
It was, among many other things, a world away from Marla Maples's response, who simply commented "Gorgeous elegance," complete with a sparkle emoji, on Blake Cohen's Instagram. Whether Maples is available or not, you may want to hire yourself a new social media manager, Samantha Blake.
Related: Trump's Firing of James Comey: A Cheat Sheet to Everything You Need to Know
"Women's Rights Are Human Rights": See 62 Fashion Insiders Speak Out in a Powerful Video for International Women's Day