Striptease: Leading Man Michael Fassbender Bares It All
Actor Michael Fassbender has emerged as an intensely focused artist by proudly baring it all.
---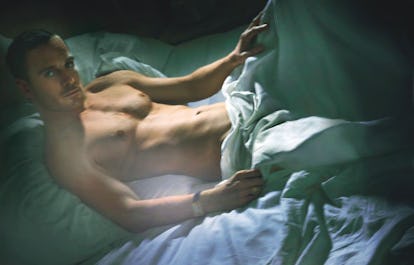 "From the start of my career, I've been naked," Michael ­Fassbender said with a laugh. He was sitting cross-legged on the floor of his hotel room in downtown Manhattan, tearing into a breakfast of eggs, potatoes, bacon, and toast from a room service tray atop an upholstered bench at the foot of the bed. "My first job was a commercial for SAS airlines," he continued, as he pushed the bacon to the side. "In the spot, I wake up in a pink room next to a beautiful blonde girl and get out of bed naked. From that point forward, it's been in all of my contracts: He must be naked in this film."
Fassbender, 34, dressed in a pair of worn jeans, a blue button-down shirt, and a leather bomber jacket, laughed again. He is Irish and has a lilting flair for leavening the serious with humor. Though in person Fassbender's blue eyes contain mischief and an infectious lightness, they mask what is often a brooding, secretive darkness on film, along with a startling intensity.
In the past year especially, he has emerged as a versatile and endlessly fascinating leading man in roles as diverse as Magneto in X-Men: First Class, the mysterious Mr. Rochester in Jane Eyre, and the complicated Carl Jung in A Dangerous Method. His most haunting performance, though, is as the sex-addicted Brandon in Shame. And while Shame is ostensibly the story of one man in present-day Manhattan, its broader theme is urban dislocation and acute loneliness.
When Steve McQueen, the film's director, approached Fassbender in 2008 about playing the part, the actor was immediately intrigued. The two had just worked together on Hunger, for which Fassbender dropped 40 pounds from his already slender frame to play Bobby Sands, the IRA activist who died in prison during a starvation protest. "Steve told me the story of Shame," Fassbender recalled, "and I said, 'That's it—I'm in. Let's start the research immediately.' "
Fassbender smiled: "I must admit—I initially thought it might be fun. You hear 'sex,' and you think…sex!" he said. "But this was definitely the hardest job I've done. I can usually shake a character off, but I couldn't shake Brandon. He had no sensual enjoyment in his life, and since we filmed the movie so quickly, I found myself living in his skin. Keeping him close to me was exhausting, cold, horrible." He pushed away his food. "As Brandon, I never ate. He had one container of Chinese food in his fridge. All that sex and he didn't have any pleasure." Fassbender paused. "That sad container of noodles tells you more about Brandon than any nudity."
Fassbender's own Jaeger-Lecoultre watch; beladora.com 18k yellow gold ring. Styled by Patrick Mackie; grooming by Jhizet Panosian for Dior. Special thanks to the Four Seasons Hotel Los Angeles at Beverly Hills.