Michael Jackson Is Coming to Broadway, Which Is Apparently the New Las Vegas
But what songs will make the cut?
---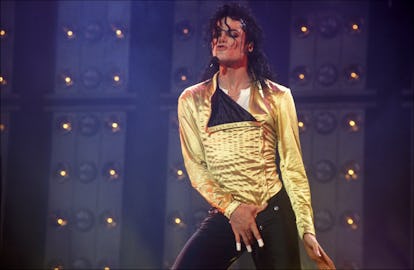 Alain BENAINOUS
As Broadway continues to juggle its soul with relevancy and revenue, musicals featuring the songs and life stories of iconic musicians have been coming down the pipeline with increasing speed. So it was perhaps inevitable that a Michael Jackson musical would moonwalk its way onto the Great White Way. The project, which won't debut until 2020, certainly seems like a slam dunk. Not only is Jackson's song catalog still quintessential, but a choreographer would really have to go out of their way to make the dancing anything but enjoyable. Half the work is done for them.
More intriguingly, the project has recruited a very unexpected talent to write the story, based on Jackson's own life. Lynn Nottage, the only woman to have twice won the Pulitzer Prize for Drama (most recently in 2017 for Sweat). Her work tends to spotlight marginalized people (Ruined focused on women who have lived through rape and battle during the Congolese War; Breakthrough Intimate Apparel was about a lonely lingerie maker living a turn-of-the-century boarding house). So while there are lingering questions about whether or not the Jackson estate will allow certain themes of Jackson's story to be included, this certainly seems like the actual story won't be a light and airy piece of fluff meant to kill time as performers catch their breath. So don't hold your breath for, say, an extended segment where Michael flies into space with a man dressed as Bubbles the Chimp to learn how to moonwalk.
Though, the news comes amidst a new wave of jukebox musicals cherry-picking the greatest hits of a beloved musical artist to either tell their story or a new one inspired by their music. On Broadway right now you can find Escape to Margaritaville (the Jimmy Buffett musical), Summer (the Donna Summer musical), and Beautiful: The Carole King Musical (the Carole King musical). Those, assuming they stay open, will be joined by imminent arrivals like The Cher Show (the Cher musical), Tina (the Tina Turner musical), Head Over Heels (the Go-Go's musical), and, it seems, all but confirmed, Jagged Little Pill (the Alanis Morissette musical). That's not to mention the recent productions that have graced Broadway to varying degrees of success (Gloria Estefan and Tupac Shakur, to name a few), or the ones that were attempted but never actually made it to a Broadway stage (the Spice Girls, for one).
Indeed, Broadway may be overtaking Las Vegas as the place where musical acts (or at least their songbooks) go where there's really nowhere else for them to go. It's an even easier way for the artist to make some extra late-career money. They don't have to perform. They don't even have to be alive, and it's less controversial than a hologram.
That's especially true as musical artists still in their prime, or at least close to it, are increasingly legitimizing Las Vegas as a respectable performance spot (did you book your Gaga tickets yet?).
So the M.J. musical seemed inevitable, but don't expect these jukebox musicals to slow down anytime soon. Sure, they don't always work (Lennon, the John Lennon musical, was a notorious Broadway flop), but Broadway producers and artists will surely keep trying. How long until we get the Prince musical? Fleetwood Mac? Is it too soon for Amy Winehouse?
Pity though for Diana Ross. Dreamgirls already exists.
Related: The Best Broadway Backstage Photos by Beyoncé, Harry Styles, and More Celebrities