The New Normal
Years of clunky footwear have women longing for—dare we say it?—shoes you can walk in. Karin Nelson catches up with three designers who are treading lightly.
---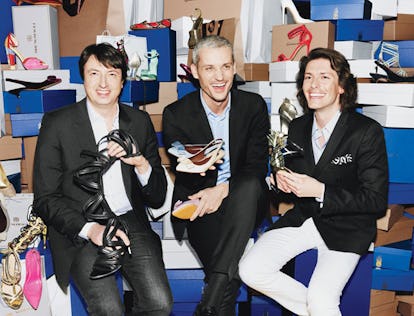 Few men get a rise out of low-heeled slingbacks like Max ­Kibardin does. But then, few can envision the glamour-puss potential of such seemingly sensible shoes. "They're so commercial and down-to-earth," says the Siberian footwear designer, who launched his own line of sassed-up classic styles in 2004 and was appointed creative director of Bruno Magli two years ago. "But to take that," ­Kibardin enthuses, "and then make them wow! with embellishment—to me, that's exciting."
If Kibardin sounds particularly excited, that's because the zeitgeist, it seems, has finally turned in his favor. After seasons of monstrously high platform soles tricked out to look like an orthopedist's worst nightmare, people's eyes and feet have simply grown weary. "It's not even about design anymore," notes Edgardo Osorio, cofounder and creative director of the Florence-based label Aquazzura. "It's just, How weird can we make this shoe?" Like Kibardin, Colombian-born Osorio has long championed simpler, more wearable silhouettes—"I think of my customer as a woman who wants to look beautiful and be able to walk," he half-jokes—that still exude a good dose of glamour and fun. His spring collection, which was inspired by Isabel Goldsmith-­Patiño's Mexican resort Las Alamandas, includes Pina Colada, a strappy stiletto with a pineapple sprouting up the back, and a pink suede cutout bootie called Sexy on the Beach. Subdued they are not. "We're not talking about a return to the minimalist '90s shoe, because minimalism can be so ugly and sad," Osorio says. "Rather, it's about elegant, well-made shoes that a woman can feel fabulous in. Because at the end of the day, you want to be happy, no?"
Certainly Gianvito Rossi, who learned the art of crafting footwear from his father, Sergio, believes so. "I always tell people, 'When you try on shoes, you must look at your leg and the line it creates, but you must also look at your face. If you are suffering, you will not look very good.' " As Rossi sees it, the problem with most of the shoes presented on the runway today is that they are intended to make a strong impact­ rather than exalt the female form. Thus, the spring collection for his eponymous line, which he introduced in 2006, is filled with styles that tease out a woman's natural allure. Knee-high gladiator sandals and stilettos with straps punched out like 35mm film play with the notion of concealing and revealing, and a pair of metallic snakeskin wedges with a high back gracefully elongate the leg. There is neither an outré heel nor a chunky platform in sight. "The result is that the woman looks nicer," Rossi notes. "Not like T. rex."
Set design by Serena Groppo; Grooming by Antonella Gaglio at Close Up Milano. Digital technician: Christian Bragg. Special thanks to Milano Studio Digital.