Michelle Obama Only Needed a Little Prodding to Admit That George Clooney Is Her "Freebie"
The confession only took a little bit of prompting from Jimmy Kimmel.
---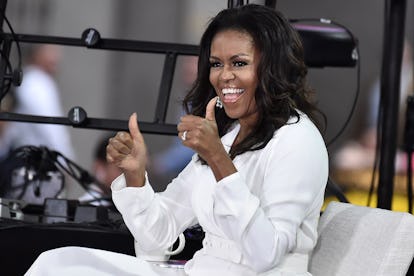 Steven Ferdman/Getty Images
It's been almost two years since the Obama family left the White House, but, after eight years as perhaps the most visible non-Kardashian family in the U.S., it's understandable that it would take some time for them to fully re-assimilate to civilian life. To help Michelle Obama along with this process, on Thursday, Jimmy Kimmel proposed an exercise wherein the former First Lady could finally say things she would never have been able to say while living in the White House. "As far as I'm concerned, you can really cut loose and say anything now," Kimmel said, and thus began what turned out to be a slightly modified game of "Two Truths and a Lie"—call it "Two Truths and a Whole Bunch of Lies."
First, the lies: Obama proceeded to look straight into the camera and recite increasingly ridiculous statements, provided by the ever-helpful Kimmel. "I've never eaten a vegetable," she began, but quickly restored her credibility as master of the White House vegetable garden by adding, "That's not true." Next, she deadpanned, "The whole eight years we were in the White House, we used Laura Bush's Netflix password," then quipped, "Laura, sorry, send me the bill!" Later, Kimmel had Obama backtrack on her 2016 Democratic National Convention quote that has since become a popular rallying cry: "I stole the phrase 'When they go low, we go high' from the back of a Snapple cap," she "admitted."
Buried among the jokey statements, however, were a few semifactual ones. After reading off, "I'm not sure which one's Sasha and which one's Malia," Obama noted that her daughters would certainly agree. "They get so mad every time I mix their names up. I'm like, 'Who are you?'" she said. And when she got to the final cue card, Obama smirked and said, "Oh, yeah," before reciting, "Clooney is my freebie," and offering up a huge grin. "I think he's all of our freebies," she added, only further suggesting that line is, indeed, true.
If Obama were to actually set up a formal "hall pass"–type agreement with her husband with regards to George Clooney, there's a pretty good chance Barack would acquiesce. After all, in 2012, when the then-POTUS spoke to Entertainment Tonight about his previous work with Clooney in Darfur, he described the actor as a "wonderful guy," and a "good man and a good friend," prompting Michelle, who was also present for the interview, to add, "He's cute, too!" Later, she brought up the Oscar winner's looks yet again, saying, "I mean, I'm just saying. I've noticed. Just…factually. It's a fact."
Michelle went on to suggest in the same interview that there was a "conspiracy" afoot, since Clooney's meet-ups with her husband only seemed to take place when she was otherwise occupied. "Michelle is always frustrated because a lot of the events that George has been involved in, for some reason, she has something else going on," Barack joked. At least Michelle got some one-on-one time with her "freebie" earlier that same year, when she was seated next to Clooney at a state dinner:
Related: Michelle Obama Used to Romp Around the White House in Cutoffs