Michelle and Barack Obama Are (Predictably) Cute In Her Inaugural Podcast Episode
Now that Michelle Obama is officially a podcaster, we can look forward to plenty more candid conversations between the former FLOTUS and her friends and family.
---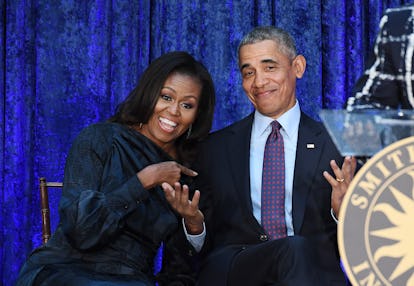 Matt McClain/The Washington Post via Getty Images
Now that Michelle Obama is officially a podcaster, she can playfully roast her friends and family in a brand new medium.
As the first guest on the inaugural episode of The Michelle Obama Podcast, Barack Obama lent his identifiable baritone vocals to the conversation, and the two, as one would expect, playfully teased each other throughout the episode in which they discussed their respective upbringings, meeting each other at their law firm, and having hope for the future.
A particularly cute segment of the episode arrived when the former President and First Lady discussed the beginning of their ascension to the middle class. When Barack joked about Michelle's interest in dating him because of his success, she told him she actually was initially shocked that he appeared to have no interest in money at all. "You were running away from the money!" she joked.
Michelle, on the other hand, admitted that she was a bit enchanted by the middle class luxuries she could afford once she graduated and started working in corporate law. Most notably, she was really into joining a wine of the month club, even though she didn't even really drink wine back then. "I don't know how good that wine was, either, I was skeptical," Barack said. It didn't matter, though, because while Michelle never even opened a bottle of the wine she had signed up to receive every month, it was the symbol of being able to experience what she thought was "the professional thing to do," she joked. "I teased you a little bit on that one," Barack admitted.
However, one thing they did agree on at the time, was the luxury of heated seats in Michelle's new car—especially compared to Barack's hoopty. "You loved the Saab, don't act like…especially coming from that yellow car with a hole in the bottom, I was like, we are not taking your car my brother. We are taking the Saab," Michelle teased. "I was still driving those, thousand dollar, five hundred dollar cars," Barack replied.
At the end of the day, though, the reason she told that story about the wine of the month club and the Saab with heated seats was to highlight her belief that material things aren't what makes a person happy. "I was doing what I thought I needed to do because I was a poor kid, so I didn't feel like I had the option to just go off and do other things," Michelle said, "But I also had a limited vision of what I could be because schools don't show you the world, they show you a bunch of careers."