Michelle Obama's First Podcast Promises Candid Conversations
On The Michelle Obama Podcast, you'll hear candid conversations between the former First Lady and those closest to her.
---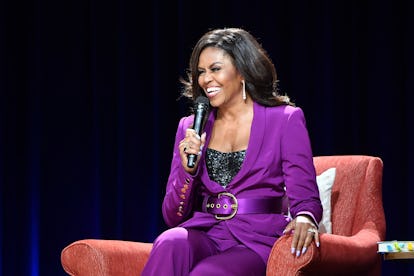 Paras Griffin/Getty Images
Get ready to explain how to download Spotify to your parents and grandparents because Michelle Obama has finally announced her podcast with Higher Ground, the production company she founded with her husband Barack Obama.
Obama is not the only former First Lady to get into the podcast game lately—Hillary Clinton announced earlier this year that, after serving as a guest on Conan O'Brien's podcast, she would be starting a podcast of her own. But unlike Clinton's podcast, which seems to have been lost in the ether, Obama's is confirmed to premiere on Spotify on July 29.
After releasing Becoming, a surprise Netflix documentary based on the national tour Obama embarked on to promote her memoir of the same name, the idea that she would drop a podcast this summer should come as no surprise. The Michelle Obama Podcast's announcement video, which was soundtracked by Amerie's "1 Thing," presents the logline, "To change the conversation, you have to start a new one."
"What I love about these conversations is that they're topics and issues that we're all dealing with no matter what's going on," Obama said in a teaser for the podcast. "Whether that's a global pandemic or a nationwide reckoning with race, my hope is that this podcast can be a place for us to sort through the questions that we're all trying to answer, a place to open up and be a little vulnerable and have some fun along the way. Most importantly, I hope this podcast sparks ideas and topics that you can open up with within your own circles."
In the first season of the podcast, Obama promises to start conversations with people she's "closest with," including her mom, her brother, and some other friends and colleagues. "We'll be discussing the relationships that make us who we are," she continued. The joys and challenges of parenting, marriage, friendship, and mentorship will also be discussed with guests.
According to Spotify, the confirmed guests are Marian and Craig Robinson, Conan O'Brien, Valerie Jarrett, Michele Norris and Dr. Sharon Malone, so it looks like any hope for a Barack cameo, or even an interview with Sasha and Malia will have to wait until the next season.
Related: Michelle Obama Dropped a Surprise Documentary on Netflix