Midterm Elections 2018: All the Women Who Made History
From the first Native American to the first Muslim women to land a seat in Congress
---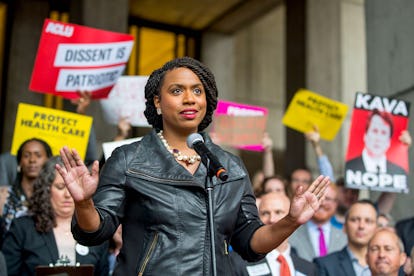 Alena Kuzub/Getty Images
Following the huge voter turnout on Election Day, the results are in for the 2018 midterm elections—or at least mostly. It's clear that the Senate is now in the hands of Republicans and the House in those of the Democrats. However, Stacey Abrams, the Democratic candidate for whom Oprah Winfrey had knocked on doors, has refused to concede to Republican Brian Kemp in Georgia's race for governor until all votes in the state, where a number of polling places malfunctioned on Election Day, have been counted. Meanwhile, in Arizona, Democrat Kyrsten Sinema is still waiting to hear if she'll become the first openly bisexual senator.
Still, whether or not Abrams will join them by becoming the country's first-ever black woman governor, a significant number of candidates have already made history. Vermont may have passed over the chance to elect the country's first openly transgender governor, but Coloradans elected Jared Polis as the first openly gay man to be elected governor, opening up the scope of statewide victories. (There were also several statewide victories: Connecticut elected Democrat Will Haskell, who's all of 22 years old, rather than a Republican Senate candidate who's been in the state legislature for 22 years, and Florida passed Amendment 4, restoring the voting rights of those with a past felony conviction who make up the nine percent of its voting-age population—much to Ava DuVernay's delight.)
But perhaps the most historic victories of the night were those made collectively by women, who not only broke records by running for office but also did so with their wins—and not just by breaking the record of women with seats in Congress. Half a century after Shirley Chisholm became the first African-American woman elected to Congress, Native American, Latina, Muslim, and more African-American women have now officially joined her in making history. Read on for a guide to all of their unprecedented wins.
Michigan elected an unprecedented number of women.
The roles of governor, senator, attorney general, and secretary of state have all been filled by women for the first time ever, with Gretchen Whitmer becoming the second woman to fill the role of governor in the state's history.
Pennsylvania upended its entirely male Congress representation.
Previously one of the 11 states with no women as their Congress representatives, Pennsylvania elected four of the record eight women on its ballot for the House of Representatives.
Tennessee elected its first-ever woman senator.
Republican Marsha Blackburn won on a platform of anti-abortion and pro-border security, following an endorsement from Donald Trump. She not only relished in her victory this morning when appearing on "Fox & Friends," but also took aim at one Taylor Swift, who broke her political silence last month to strongly denounce Blackburn and endorse Democrat Phil Breseden. In the end, he ended up getting less than half as many votes as Swift's Instagram post endorsing him, leading Blackburn to share what seemed like a long-awaited pun on Fox: "Well, I hope Taylor will shake it off."
Congress welcomed its first-ever Muslim women.
Thanks to Michigan and Minnesota, respective Democrats Rashida Tlaib and Ilhan Omar became the first Muslim women elected to Congress. Omar, who's advocated for undocumented immigrants, will also be Congress's first Somali-American and Muslim refugee.
Congress welcomed its first-ever Native American women.
Shortly after Kansas's Sharice Davids became the first-ever Native American woman elected to Congress, New Mexico made sure she wasn't alone by electing Deb Haaland, a member of the Laguna Pueblo tribe. (Davids's win also marked Kansas's first openly lesbian congresswoman.)
South Dakota, Maine, and Guam elected their first female governors.
Republican Kristi Noem claimed South Dakota, while Democrat Janet Mills won the majority in Maine. Meanwhile, in the Pacific, the majority of voters in Guam elected Lou Leo Guerrero.
Congress welcomed its youngest woman ever.
Following her overwhelming win in the primary, 29-year-old New York Democrat and Bronx native Alexandria Ocasio-Cortez beat the previous record of age 30 on the platform of "democratic socialism." The state also elected Democrat Letitia James as attorney general, making her both the first woman and the first African American to hold the role.
Texas elected its first-ever Latina representatives to Congress.
The election of El Paso's Veronica Escobar and Houston's Sylvia Garcia helped soften the blow many felt from Ted Cruz's victory over Beto O'Rourke.
African-American women will represent Massachusetts and Connecticut in Congress for the first time ever.
Democrat Ayanna Pressley has become the first African-American woman to represent the state in Congress in Massachusetts history. Just a bit farther south on the East Coast, Jahana Hayes made the same first in Connecticut.
Related: The Best Celebrity "I Voted" Selfies and Memes From the 2018 Midterm Elections