Miguel and Nazanin Mandi Got Married in a Southern California Oasis
After 13 years of dating, the couple finally tied the knot over Thanksgiving weekend.
---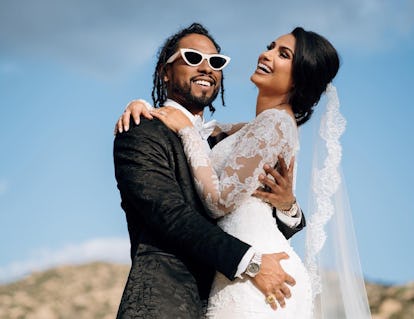 Photo courtesy of @miguel.
We've all been so busy keeping tabs on the rollercoaster relationship between Mr. and Mrs. Bieber that we almost missed the nuptials between Miguel and Nazanin Mandi over the long Thanksgiving weekend.
The chic wedding, which took place on November 24, between this particular crooner and supermodel flew way under the radar. In fact, the event was so low key that the nuptials were only confirmed late Monday night by Karen Civil, digital strategist to the stars, who wished Miguel and Mandi congratulations via Twitter.
Miguel and Mandi had been a couple for roughly 13 years before officially tying the knot on Saturday at Hummingbird Nest Ranch in Southern California. According to reports from Vogue, Miguel and Mandi met at 18-years-old (he is now 33, and she is 32) during an interview in which the supermodel went off script to ask the musician a personal question. "I asked him a question that wasn't on my Q&A, which was: 'All the ladies want to know, do you have a girlfriend?'," she told Vogue."And he smiled and said, 'No, but I'm looking for one.' We exchanged numbers, and he called me the next day to ask me out on a date…and ever since then it's been one hell of a ride!"
Over the past 13 years, Mandi has made numerous red carpet arrivals with Miguel at events like the Grammys and the Billboard Music Awards, appeared as the muse in the occasional music video of his, and turned her R&B crooner partner into a doting Instagram Boyfriend. The couple reportedly announced their engagement in 2016, eleven years after their first date.
Wearing a custom Monique Lhuillier white gown and Spanish mantilla veil, Mandi said "I do" to her groom (who wore a tuxedo custom-made by Van Van) at the Spanish-style estate before switching it up with a white Carly Cushnie gown for the reception.
Guests included plenty of family, and a few close friends, such as Vanessa Hudgens and her longtime boyfriend, Austin Butler. After the reception, which included the newlyweds' first dance to Heatwave's "Always and Forever," In-N-Out Burger was served to all of the attendees, because it wouldn't be a California wedding without In-N-Out.
Related: Look Inside the Lavish Taj Umaid Bhawan Palace, Priyanka Chopra and Nick Jonas's Wedding Venue