Justin Bieber Says "Relationships Are Hard" After Hosting Thanksgiving for His and Hailey Baldwin's Families
And that "love isn't always easy."
---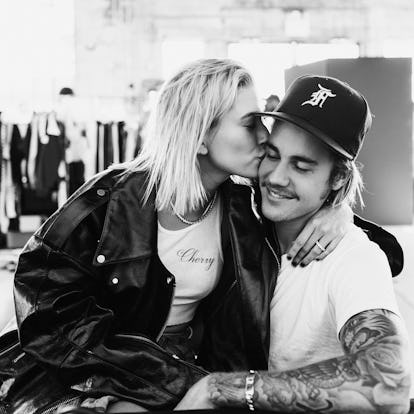 Courtesy of @justinbieber
Big reveals have never been Justin Bieber's thing. When he and Hailey Baldwin got engaged, he waited a few days to confirm it, only doing so after the rumors piled up. When the pair took a "non-honeymoon honeymoon" on the Amalfi Coast, neither Bieber nor Baldwin even posted about it—and that was after the pair got legally married. And though the newlyweds each, rather subtly, broke their silence earlier this month and confirmed, via Instagram, that they're now officially husband and wife, it wasn't until this week that we learned what married life has been like for the pair.
Thanksgiving, it seems, put Bieber in a reflective mood. On Friday, he posted a photo of a bunch of moody trees on Instagram and ruminated on the Thanksgiving celebration he and Baldwin had hosted for their families the previous day (which also happened to be Baldwin's birthday). "Happy late thanksgiving to everyone," he wrote in the caption, before diving on in. "First thanksgiving as a married man, first time hosting thanksgiving. First time both sides of the family has come together."
He then opened up about how deceiving appearances can be. Despite the fact that he and Baldwin have been racking up the PDA, he seemed to imply that their relationship isn't as easygoing as it seems—because no real relationship is. In reality, marriage, especially, is a constant compromise in motion. "Relationships are hard and love isn't always easy but thank you Jesus for showing me how!" he wrote. "Every day is a learning process, trying to be more like him, patient, kind, selfless, boy I got a long way! But gods grace is sufficient!"
Baldwin, too, commemorated the holiday on Instagram, sharing two photos taken immediately after Bieber had (lovingly) smashed a sheet cake in her face.
Even though Bieber and Baldwin are legally married, it's expected that a bigger wedding party is still on the way. Now that it's been two months since they allegedly tied the knot, their actual celebration is likely just around the corner. "They can't wait to have a wedding," a source revealed back in September. "But for other reasons, it was easier for them to get the legal stuff out of the way now and to get married. It was more of a necessary ceremony to make it legal. It doesn't seem like it was a big deal to them…It will be in the next few months. They are still deciding on a wedding location…They're going to have a big blowout, in front of God and everyone they love." When the time comes, expect that Bieber will be super chill about that, too.
Related: Justin Bieber Serenaded Hailey Baldwin With "Fast Car" and Still Doesn't Understand the Song