Justin Bieber Refers to Hailey Baldwin as His "Wife" on Instagram, Because They Are Married
Bieber updated a previously caption-less Instagram. The intrigue!
---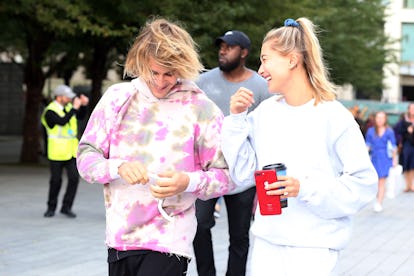 Getty Images
Justin Bieber may have said that, despite their courthouse visit, he and Hailey Baldwin aren't really married till they're married before god, but that isn't stopping him from referring to her, quite publicly, as his "wife."
On Thursday, the singer posted a candid photo of the two grinning outside what appears to be a Whole Foods and, while he initially neglected to caption the image, he went on later to add, "My wife is awesome." (Previous posts of the couple refer to her as "my little bean" and "hunny buns punkin," while Baldwin's last Instagram of her fiancé refers to him as "my heart.") Baldwin replied in the comments, writing, "that's my babe."
And, after all, they've certainly been behaving like lawfully wedded husband and wife. They obtained complementary tattoos some time over the summer, Bieber wearing his proudly (but quietly) right on his face. They acquired at $5-million, 101-acre estate in Ontario in August, a massive, rustic-feeling compound with a 9,000-square-foot farmhouse (complete with a movie theater). Bieber, apparently, might like to get married in Canada. Then, there's the matter of their non-honeymoon honeymoon, a luxurious trip to the Amalfi coast to celebrate their non-marriage. Just take out the "non" in that sentence and. well, you get the idea.
Meanwhile, Baldwin accidentally followed, and then unfollowed, a Selena Gomez fan account on Instagram. "Hey followed u by accident so sorry!" she DM'ed the owner of the account, @houseofsel, much to the delight of said user. This may or may not have had something to do with why Bieber updated the caption to his post, as some have speculated.
Some use "wife" colloquially, but Bieber seems to take the whole institution a little too seriously for that. In any case, their engagement has unexpectedly outlasted that of Ariana Grande and Pete Davidson. They might be married. And that in itself basically makes them committed for life, right?