Justin Bieber Has a Secret Face Tattoo
This is actually not Bieber's first face tattoo.
---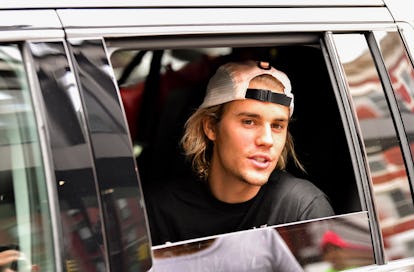 James Devaney/Getty Images
Justin Bieber and Hailey Baldwin, newlyweds before the City of New York but not before God, have done like so many celebrity couples before them and gotten coordinating tattoos, the work of the New York–based artist Keith McCurdy of Bang Bang Studio. Though McCurdy told Page Six he hasn't "seen any photos of it, so he's doing a good job of laying low," it's actually pretty hard to avoid photographing it—since it's on Bieber's face.
One might be able to spot the tattoo in an image that's been used to illustrate countless blog posts about Bieber and Baldwin's relationship throughout the summer and fall, but that, until now, hadn't been connected with Bieber's fresh ink. The photo was taken in July, before Bieber and Baldwin had even made it to City Hall; in it, Bieber can be seen in a backward baseball cap and a Supreme shirt, gazing out the window of a black SUV. On closer examination, you might even decipher the tattoo. Maybe. It's seemingly a light scrawl ("little words") over his right eyebrow, so "thin and delicate," as McCurdy described it to Page Six in the same interview, that it almost blends in entirely. Like, it could be a trick of the light.
It sort of vaguely looks like it says "grace" in a gentle cursive (or, at least, it looks that way if you're looking for it), which has been connected to an Instagram post from the tattoo artist JonBoy back in July, a few weeks before the paparazzi photo made its way online. He captioned an image of himself alongside the blissful couple, "Style&Grace." (Yes, all one word.) So perhaps Baldwin's coordinating tattoo (probably not on her face) says "style" in the same hand? Just spitballing here. (JonBoy previously did Bieber's other face tattoo, a tiny cross at the outer corner of his left eye.) At least if it all goes south for Bieber and Baldwin, a tiny word on his face isn't as conspicuous as Ariana Grande bunny ears.
Maybe all this ink around his eyes explains why Bieber has spent so much time publicly crying.
A Complete Visual History of Justin Bieber's Hair
And I was like baby, baby, baby, oh…

Getty Images
Aside from minor changes in its swoop, Bieber stayed notably consistent with his look between 2008 and 2010.

Getty Images
For his appearance at the 2011 Video Music Awards, Bieber offered a long-awaited glimpse at his forehead, and accessorized with glasses and Selena Gomez.

Getty Images
A sneak peek at Bieber's future scruffiness.

Getty Images
By 2012, Bieber seemed to have learned how to maintain his original locks: by simply slicking them back into a bouffant.

Getty Images
The kickoff of Bieber's Believe tour in South Africa brought his bouffant to the international level.

Getty Images
Bieber's cheery mug shot, taken shortly after he was charged with drunk driving, resisting arrest, and driving without a valid license, featured a magnificent bouffant—perhaps because he'd just spent the night racing.

Getty Images
Fully embracing his roast on Comedy Central, Bieber matched his hair to his monkey's. (To be clear, this is not OG Mally, Bieber's pet monkey, who was infamously confiscated by the German authorities, and who is still a resident of a German zoo—and still having trouble communicating with other monkeys.)

Getty Images
Posing with Nash Grier, Bieber later captioned this image simply "#Ponytails."

Courtesy of @justinbieber
Behold: a bleached-blond Bieber.

Getty Images
By the next month, though, he was back to his dirty-blond bouffant.

Getty Images
Who knows what's hiding under this beanie? The possibilities are endless.

Getty Images
Bieber started off the new year with a bang—i.e., a man bun.

Getty Images
By the next month, he'd already moved on to bleached blond, as he showcased at the Saint Laurent show.

Getty Images
Naturally, his Purpose World Tour merited his third transformation in as many months. Lest it get in his way, he slicked it back into a bun on the tour's opening night in Seattle.

Getty Images
Yes, those are dreadlocks, and yes, Bieber wore them out in public—here at the iHeartRadio Music Awards, though regrettably on other occasions as well.

Getty Images
By the next month, the dreads were fully gone, though that didn't stop Bieber from making a statement while on his trip to Monaco. It was during this month that he also got a teeny face tattoo.

Getty Images
A little over a year later, Bieber shifted his attention to his facial hair.

Getty Images
The next year, his regrown hair didn't exactly help him at the NBA All-Star Celebrity Game.

Getty Images
We're still waiting with bated breath to find out if or when Bieber will deliver on this promise.
Look at those luscious locks go!

Getty Images
The evidence of the haircut, though, was already gone by the next month.

Getty Images
While in Michigan that September—a whirlwind month for Bieber's hair—he returned to the forehead-less days of his youth.

Courtesy of @justinbiebercrewbackup, via @sammybiebs_
Yes, that bump under his hood is no doubt a bun or a ponytail, pulled up high on his head, Hailey Baldwin–style.

Getty Images
Less than a week later, Bieber took care of the bump, using his Instagram Story to share the news of his buzz cut, which quickly earned him the nickname Buzztin. It also put his tiny face tat of a cross more prominently on display—an act of faith perhaps as prominent as his and Hailey's commitment to waiting until marriage to have sex.

Courtesy of @justinbieber
Save for the presence of Hailey and quite a few more tattoos, you'd be forgiven for thinking this photo dates several years back. In May 2019—yet another banner year of hair changes for Bieber—he threw things back to his original sleek, neatly combed, and naturally colored mop.

Courtesy of @justinbieber
Periods of scruff soon followed, but Bieber once again managed to clean things up for his (second) wedding to Hailey in the following months.

Courtesy of @haileybieber
It's no surprise that Bieber kicked off the new year in a pair of Drew House pajamas, but his peroxide pixie was definitely an unexpected touch.

Courtesy of @justinbieber
Our thoughts and prayers go out to Hailey. Even she (reportedly) "can't stand" Bieber's mustache, which unfortunately made a comeback. (Bieber even put it at the center of his "Intentions" art.) Hailey has yet to publicly condemn it, but according to People's mysterious source, that might be for the best: "The more people want him to shave it off, the more he wants to keep it. It's staying for now. It's making him feel like a rebel and he likes it!" Thankfully, Hailey has previously prevailed in getting him to shave it off.

Courtesy of @justinbieber