Look Inside the Lavish Taj Umaid Bhawan Palace, Priyanka Chopra and Nick Jonas's Wedding Venue
Take a look at some of its nearly 350 luxury rooms.
---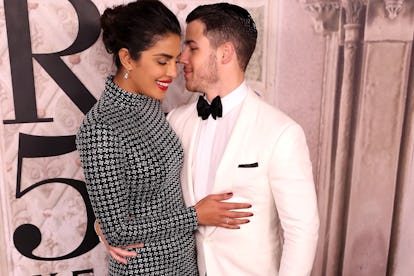 Rob Kim/Getty Images
Having moved at warp speed throughout the entirety of their relationship, we've already arrived at the point of ogling Priyanka Chopra and Nick Jonas's over-the-top wedding venue: the Taj Umaid Bhawan Palace, which sits atop the highest point in Jodhpur, India.
The pair are expected to get married any day now; indeed, there appears to be a real date on the calendar—and, if the reports are true, it's only a couple of days away, on November 29. Though there will be plenty more celebrating to come after that 24-hour window—four to five days worth, in both Delhi and Mumbai, to be precise.
Of course, the partying will be accompanied by a ceremony—or, by the sound of it, several ceremonies. The pre-wedding affairs, like the mehendi and sangeet, had apparently been set to take place at the Mehrangarh Fort, a national monument built in the 1400s that overlooks the city of Jodhpur. Since the city's police will be occupied with the state's assembly elections, though, they're apparently erring on the side of caution and moving things to the fort at the Taj Umaid Bhawan.
The palace is by no means a downgrade. It does come at a price, though. If they do end up sticking around for five days, the 40-room minimum will likely see their bill rack up the equivalent of more than $550,000. That's not too bad, though, given that the palace is home to the former Jodhpur royal family and has no less than 347 rooms, which the couple and their double date of choice, Joe Jonas and Sophie Turner, will soon move into. (The pair just arrived in Delhi, where Chopra has been working on her upcoming Hindi-language film The Sky Is Pink—not to mention spending Thanksgiving with Jonas and her family.)
As for what they'll find upon their arrival, there's a museum, banquet hall, library, ballroom, spa, swimming pool, four tennis courts, two marble squash courts, and dozens of Art Deco–style suites, just to name a few of the amenities.
All in all, there's enough space for the luxury five-star Taj heritage hotel to hold the title of the world's sixth largest private residence. The Art Deco bathrooms alone are arguably worth the trip.
In case anyone starts to feel a bit stir-crazy, there are also 26 acres of land to explore, which include some "dancing peacocks" and 15 acres of gardens. In other words, there's plenty of room for a Jonas Brothers reunion.
Related: A Complete Timeline of Priyanka Chopra and Nick Jonas's Relationship
All of the Celebrities Who Have Gotten Married In 2018 (So Far)