Priyanka Chopra and Nick Jonas Celebrated Their First Thanksgiving Together in India Ahead of Their Wedding
The couple celebrated their first Thanksgiving together with family.
---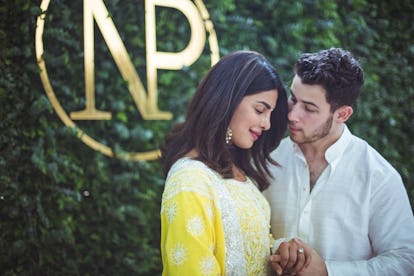 instagram.com/priyankachopra
Priyanka Chopra and Nick Jonas's wedding is nigh. The pair are rumored to be getting married next weekend in India, and their Thanksgiving celebration may have confirmed that. For one, Chopra and Jonas are already in India and surrounded by family.
The pair pregamed for their upcoming wedding with a giant family dinner, as they both shared on social media. "Happy thanksgiving.. family.. forever..," Chopra wrote on Instagram in the caption of a photo showing the couple sitting at the head of a near-endless dinner table that was lit by overhead chandeliers and situated in a backyard alongside a pool. Jonas shared the same photo on his account without giving away much more, writing, "What a beautiful Thanksgiving. Hope you all had the best day with your loved ones."
Preparing for a wedding with a family holiday meal is kind of genius. It's an easy transition into the family-dominated occasion, and it takes off some of the pressure of the events surrounding the actual nuptials. The Chopra side, at least, has already gotten over the initial hurdle of re-familiarizing themselves with each other and the groom. Not to mention, it also extends the aura of joy around their wedding.
If the speculation turns out to be correct, Chopra and Jonas will be officially married come December 2, at Jodhpur's 15th-century fortress Mehrangarh. They're already halfway there, as the couple reportedly picked up their marriage license in Beverly Hills, in between Chopra's bridal shower, bachelorette party, and trip back home to India. Considering Chopra's closeness with her family, it seemed like a given from the beginning that they would get married in India.
When the pair got engaged, Chopra shared photos of her and Jonas celebrating with her family. In the caption, she wrote, tellingly, "The only way to do this… with Family and God. Thank you all for your wishes and blessings ??♥️?." Come next weekend, she and Jonas will be once again overwhelmed with wishes and blessings from fans and loved ones eagerly anticipating a look at their wedding photos (and the guest list). Judging by their engagement ones, they will not disappoint.