Priyanka Chopra and Nick Jonas Are Now Reportedly Licensed to Wed
The celebration is imminent.
---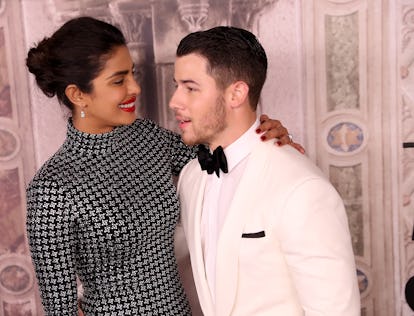 Rob Kim/Getty Images
Priyanka Chopra and Nick Jonas have spent the past few months preparing for what promises to be one of the most FOMO-inducing weddings of the year, and now they're reportedly only one step away from tying the knot. The bride-to-be has already celebrated with a shower and a bachelorette party, the latter of which, apparently, came right after she and Jonas had secured their marriage license.
In between their jet-setting preparations for the upcoming party, Chopra and Jonas found the time to visit the Beverly Hills Courthouse, where they picked up the piece of paper that makes their union legally binding. The couple, who will reportedly be celebrating their nuptials in India, plan on bringing their license overseas so that they'll be official both in the States and in Chopra's native country, according to The Blast. Their wedding is said to be scheduled for December 2, at Mehrangarh, a 15th-century fortress in Jodhpur, so expect it to be no less photogenic than any of their other wedding events.
Chopra has been having a better November than most (and we're only one week in). After getting her marriage license, she ditched Jonas and headed to Amsterdam with her closest friends, including Elizabeth Chambers and her future sister-in-law Sophie Turner, for a bachelorette celebration. She shared several memorable moments from the occasion on Instagram, looking in each of them pretty much as one does when totally in love and about to get married. One, for example, shows her cruising down the city's canals, wearing a bride-esque feathery white sweater and flashing her engagement ring—the one, you'll recall, that Jonas closed down an entire Tiffany & Co. store to purchase.
Not coincidentally, Chopra decided to hold her late-October bridal shower at a Tiffany & Co. store, surrounded by pals like Lupita Nyong'o and Kelly Ripa, plus Jonas's whole immediate family, though this bridal bash took place in the jewelry brand's N.Y.C. outpost, rather than the London location where Jonas picked out her ring. Chopra's love for Tiffany & Co. goes way back, as she revealed to People after finally confirming her engagement. "I think we had a conversation about it when we were dating, and I've always known it had to be Tiffany," she said. "Since I was a little girl, it was just something that was stuck in my head, and I may have said that, and I guess he remembered." Not bad for someone whose pickup line sounded a lot like a formal LinkedIn message.
Related: Will Nick Jonas and Priyanka Chopra Get Married Before Joe Jonas and Sophie Turner?