Will Nick Jonas and Priyanka Chopra Get Married Before Joe Jonas and Sophie Turner?
Two Jonas weddings lie ahead, but which brother will marry first?
---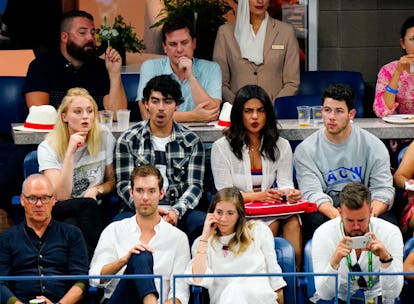 Gotham/Getty Images
It's been a year of whirlwind romances, with slapdash engagement announcements popping up seemingly left and right. Some relationships have fizzled out, as in the case of Ariana Grande and Pete Davidson, while others have just gotten weirder (and maybe even stronger), as in the case of Justin Bieber and Hailey Baldwin (and by the way, the supermodel is officially Hailey Bieber now).
The Jonas family has also contributed to the wedding frenzy—Joe Jonas and Sophie Turner became engaged in October 2017, then Nick Jonas proposed to his now-fiancée Priyanka Chopra this summer, after what seemed like barely two months since announcing they were officially together as a couple. Now two Jonas weddings lie ahead, but which brother will marry first?
Well, just because Joe has been engaged to Game of Thrones's Turner for about a year, it does not indicate that the couple is necessarily on the fast track to marriage. Sure, they've been together longer than Nick and Chopra, but seem to be moving at a slower pace. Just this month, they finally made their first official red carpet debut as a couple, and a few days later revealed matching Toy Story tattoos on their arms.
The relationship has been going strong for a year, and Turner won't even tell him what the deal is with the upcoming Game of Thrones finale because he does not wish to know any spoilers (audiences should not expect him to make a cameo, either, according to reports from People). It would make sense if the couple wanted to wait until after the media frenzy surrounding Turner's HBO series dies down before officially tying the knot (although Turner's Game of Thrones castmates did not heed the same rule).
On the other hand, Nick and Chopra are operating on a different relationship timeline. After coming out as a actual couple in May, they would become engaged to be married by the middle of the summer, meet each oother's parents and families, and go on double dates with their future in-laws.
Now, according to an exclusive report from Us Weekly, the Jonas-Chopra wedding will take place before the end of the year. According to a source at Us, they both "really want to blend wedding traditions from both of their cultures that are important to them," and the Jonas family will travel to India for the wedding in December. No matter which engaged Jonas ties the knot before the other, neither Nick nor Joe will be the first Jonas brother to get married—Kevin Jonas has been married to his wife Danielle for nearly nine years.
Related: Priyanka Chopra Explains Why Her Mom Is the Best Fashion Week Date