Sophie Turner Attended Kit Harington and Rose Leslie's Wedding in a Red Minidress and Thigh-High Boots
The Game of Thrones actress wore a red minidress and thigh-high boots.
---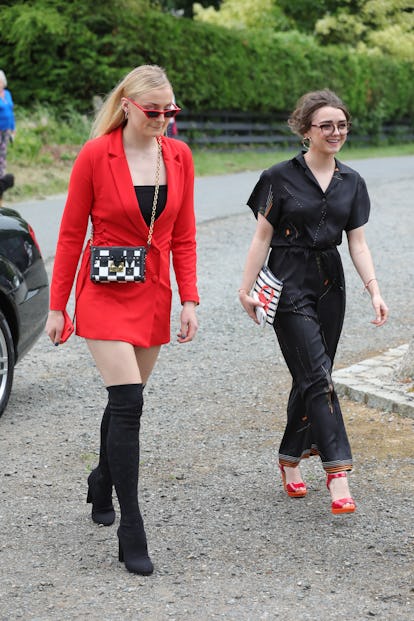 Mark R. Milan
Ahead of his wedding to Rose Leslie—which may as well be called the other royal wedding—Kit Harington coordinated with the Game of Thrones production schedule to ensure his co-stars were able to make it to the ceremony—after all, he and Leslie met on the set of the HBO series, during which their characters Jon Snow and Ygritte became romantically involved. So on Saturday, June 23, Westeros's most prominent residents descended on Aberdeen, in Scotland, to observe the Leslie-Harington nuptials. Emilia Clarke showed up; Peter Dinklage, who was having none of the paparazzi attention, also made his way there; and Sophie Turner rolled in with her on-screen sibling and off-screen best friend Maisie Williams at her side. (Her fiancé, Joe Jonas, was unavailable—he was in Paris sitting front row at Kim Jones's debut Dior Homme show—but Turner checked in with him over FaceTime upon arriving in Aberdeen.)
While most of the wedding party arrived in understated, polished looks in muted tones—Dinklage in a suit; Clarke in a blush-pink coat, tea-length garden party dress, and Dior heels—Turner opted for something a little bolder: black thigh-high boots embroidered with the Louis Vuitton logo, a red double-breasted blazer with lace-up sides, worn as a dress with a black slip underneath, and a Petite Malle bag—a checkerboard-patterned cross-body box bag by Louis Vuitton with a tiny initial monogram on its front. (Turner has fronted campaigns for the French fashion house.) Williams coordinated in a black jumpsuit, black and white Kate Spade clutch illustrated with a red crab, and red open-toe heels. Turner topped the look with a pair of red sunglasses; her phone, clutched in one hand, was also outfitted in red.
It made for quite the statement against the wedding's setting, in an Aberdeenshire church and then at the Leslie family's Scottish castle, but then again, Kit Harington and Sophie Turner are basically family—at least as far as the Game of Thrones universe is concerned—so we suppose the usual guidelines for wedding attire don't really apply.
Related: For Sophie Turner, the Scariest Part of Playing Sansa Stark in Game of Thrones Was Dying Her Hair
Sophie Turner, Emilia Clarke, Marcus Mumford, and More of the Famous Guests at Kit Harington and Rose Leslie's Wedding in Aberdeen, Scotland
Kit Harington and Rose Leslie at Rayne Church, Kirkton of Rayne in Aberdeenshire, after their wedding. (Photo by Jane Barlow/PA Images via Getty Images)

Jane Barlow – PA Images
Rose Leslie and her father Sebastian Leslie arrive at Rayne Church, Kirkton of Rayne in Aberdeenshire, for her wedding ceremony with Game of Thrones costar Kit Harington.

Jane Barlow – PA Images/Getty Images
Sophie Turner and Maisie Williams arriving at Rayne Church in Kirkton on Rayne for the wedding of Kit Harrington and Rose Leslie on June 23, 2018, in Aberdeen, Scotland. (Photo by Mark R. Milan/GC Images)

Mark R. Milan
Actors Peter Dinklage and Emilia Clarke arrive at Rayne Church, Kirkton of Rayne in Aberdeenshire, for the wedding ceremony of their Game of Thrones costars Kit Harington and Rose Leslie, June 2018.

Jane Barlow – PA Images/Getty Images
Actor Jack Donnelly arrives with partner Malin Akerman at Rayne Church, Kirkton of Rayne in Aberdeenshire, for the wedding ceremony of Game of Thrones stars Kit Harington and Rose Leslie. (Photo by Jane Barlow/PA Images via Getty Images)

Jane Barlow – PA Images
Rose Leslie's mother, Candida Leslie, at Rayne Church, Kirkton of Rayne in Aberdeenshire, for the wedding of her daughter, Rose Leslie, and Kit Harington. (Photo by Jane Barlow/PA Images via Getty Images)

Jane Barlow – PA Images
Kit Harrington departing Rayne Church in Kirkton on Rayne after his wedding on June 23, 2018, in Aberdeen, Scotland. (Photo by Mark R. Milan/GC Images)

Mark R. Milan
Actor Peter Dinklage arrives at Rayne Church, Kirkton of Rayne in Aberdeenshire, for the wedding ceremony of his Game of Thrones costars Kit Harington and Rose Leslie, June 2018.

Jane Barlow – PA Images/Getty Images
Ben Aldridge arriving at Rayne Church in Kirkton on Rayne for the wedding of Kit Harrington and Rose Leslie on June 23, 2018 in Aberdeen, Scotland. (Photo by Mark R. Milan/GC Images)

Mark R. Milan
Marcus Mumford arriving at Rayne Church in Kirkton on Rayne for the wedding of Kit Harrington and Rose Leslie on June 23, 2018 in Aberdeen, Scotland. (Photo by Mark R. Milan/GC Images)

Mark R. Milan
Kit Harrington and Rose Leslie departing Rayne Church in Kirkton on Rayne after their wedding on June 23, 2018, in Aberdeen, Scotland. (Photo by Mark R. Milan/GC Images)

Mark R. Milan
Ben Crompton arriving at Rayne Church in Kirkton on Rayne for the wedding of Kit Harrington and Rose Leslie on June 23, 2018, in Aberdeen, Scotland. (Photo by Mark R. Milan/GC Images)

Mark R. Milan
Actors Conleth Hill, John Bradley, and Joe Dempsie arrive at Rayne Church, Kirkton of Rayne in Aberdeenshire, for the wedding ceremony of Game of Thrones stars Kit Harington and Rose Leslie. (Photo by Jane Barlow/PA Images via Getty Images)

Jane Barlow – PA Images
Actor Liam Cunningham arrives at Rayne Church, Kirkton of Rayne in Aberdeenshire, for the wedding ceremony of Game of Thrones stars Kit Harington and Rose Leslie. (Photo by Jane Barlow/PA Images via Getty Images)

Jane Barlow – PA Images
Guests arriving at Rayne Church in Kirkton on Rayne for the wedding of Kit Harrington and Rose Leslie on June 23, 2018, in Aberdeen, Scotland. (Photo by Mark R. Milan/GC Images)

Mark R. Milan
Guests at Rayne Church in Kirkton on Rayne for the wedding of Kit Harrington and Rose Leslie on June 23, 2018, in Aberdeen, Scotland. (Photo by Mark R. Milan/GC Images)

Mark R. Milan