Priyanka Chopra and Nick Jonas's Enviable Relationship Started With a Mediocre First Text
His opening line to her was aggressively mediocre.
---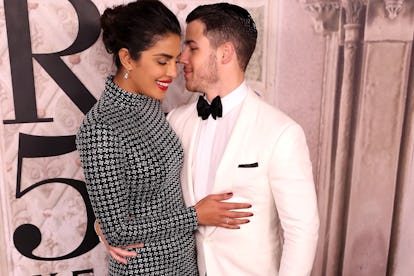 Rob Kim/Getty Images
You shouldn't judge a book by its cover, but should you judge someone by their opening line? Had Priyanka Chopra done that, then she and Nick Jonas might never have gotten together. That's because the singer and actor's first text to the starlet couldn't have been more generic. In fact, it's almost word-for-word the same as LinkedIn's boilerplate message.
Chopra revealed the words that led her to love in a recent interview, telling ET, "I actually didn't make the first move—he did. He texted me. The first time was a text and just saying, 'I think we should connect,' and whatever, and that's how we started talking."
That text message was likely sent over a year ago, before the pair were first photographed together at 2017's Met Gala, where they've sworn they were just friends. "We were both wearing Ralph Lauren, and we decided to go together," as she told Jimmy Kimmel afterward, who pressed her for more. Chopra didn't have anything else to share, though, other than, "We were on the same table and we already know each other. So he was like, 'Hey, you wanna go together?' And I was like, 'Yeah, okay, let's go together.' It ended up working out."
The pair weren't officially labeled an item, though, until this past May, and, more officially, this past summer when they were spotted traveling together. In August, however, their relationship status became even clearer when they both shared the news on their Instagram pages that they were engaged. "Taken…With all my heart and soul," Chopra wrote.
Chopra recently opened up about their relationship, revealing that respect is at the center of it. "Truly this is what worked for me, he has to be someone who respects you," she told People. "By that, I don't mean makes coffee for you—not that. But someone who respects the hard work you put into your life…Who respects that if his work is important, so is yours," she continued. "Or if he makes choices that are important to him, so is your opinion. That's respect, and that's incredible to have." "Then everything is so easy because you give each other credit for your intelligence, you give each other the benefit of the doubt because you trust each other. There's so much that comes out of that. I think don't settle for less than that."
You can apparently settle, though, for a less-than-spectacular opening line—as long as there's respect behind it.