Priyanka Chopra and Sophie Turner Form "The J Sisters," Could Supplant the Jonas Brothers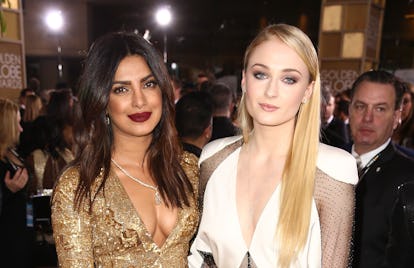 Joe Scarnici/Getty Images
More than a decade after the Jonas Brothers first issued an S.O.S., they may soon be issuing another cry for help, thanks to some pretty major new competition. Over the weekend, while celebrating her bachelorette party in Amsterdam, Priyanka Chopra bestowed the name "The J Sisters" upon herself and her future sister-in-law Sophie Turner, presumably leaving Nick, Joe, and Kevin shaking in their skinny jeans.
Chopra and Turner showed off their sisterly love with multiple Instagram posts during the wild weekend abroad. While the Game of Thrones star posted several photos of the white-minidress-clad Chopra on her Instagram Story, captioning one with "bride goals," the bride-to-be magnanimously shared the spotlight with Turner, uploading a clip of the two of them in which she coined their instantly iconic duo name. In the video, Chopra groans dramatically as she gives Turner a piggyback ride while wearing stilettos, saying, "This is what you have to do for sister-in-laws these days!" She added a GIF spelling out the word "sisterhood," and tagged "#TheJSisters," which will surely start trending on a global scale once they release their first single.
Sadly, the third J Sister, Kevin's wife, Danielle Jonas, didn't appear to be in attendance at the bachelorette weekend, but she will hopefully be welcomed into the girl group with open arms when the whole Jonas family comes together for the holidays.
Turner and Chopra have clearly forged a tight bond since becoming engaged to Joe and Nick, respectively, over the course of the past year. In August, after Nick and Priyanka finally confirmed the speculation that they'd been engaged for weeks, Turner shared a photo of the happy couple on Instagram, writing, "Wow. First I'm blessed with an incredible future brother-in-law, and now such an beautiful, inside and out, future sister-in-law. I'm so excited to welcome you into the family @priyankachopra . I love you both @nickjonas."
The quartet have also been spotted on several double dates together in recent months: Back in July, they all stepped out for dinner at 34 Mayfair in London—with a solo Kevin rounding out the squad as fifth wheel—and in September, Turner, Chopra, and their fiancés watched Serena Williams score a victory at the U.S. Open. After that outing, both Nick and Priyanka shared a photo of the double date on Instagram, with the latter calling it "a #famjam at the #usopen." With any luck, the J Sisters will soon collaborate on a slightly different type of "fam jam," and release an updated version of "Year 3000."
Related: Priyanka Chopra: "I Don't Crush on People, They Crush on Me"