Mihda Koray: Near East, Far Out
Here's why you need to know this editor from Istanbul, Turkey
---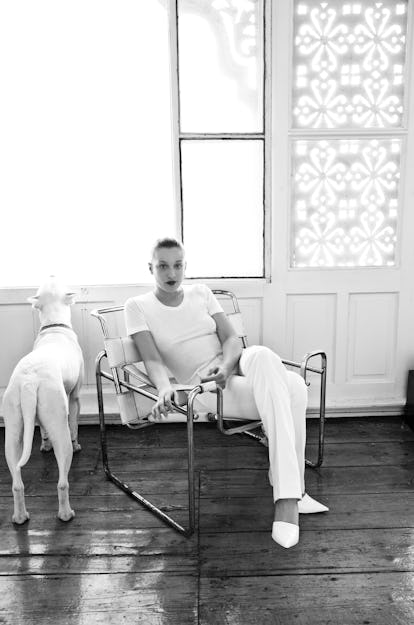 Istanbul has a burgeoning art scene; it spawned one of fashion's latest It designers, Hakan Yildirim; and its creative festival, Istancool, has become internationally influential. So it's about time the Turkish cosmopolis got its own buzz-worthy style magazine. Near East, a biannual devoted to the cross-cultural pollination of art and fashion, aims to be just that.
The publication, which debuted in the spring, is the brainchild of 30-year-old Mihda Koray. Born in Istanbul to a translator mother and a businessman, Koray moved to London when she was 9 and, as a teen, became enamored with the British indie-zine scene, plastering the walls of her boarding school dorm room with tear sheets. She moved back to Istanbul after graduating, and in 2006 she founded URA!, a locale for performances, video installations, and exhibitions, where artists including Raymond Pettibon and Chris Burden have staged and curated shows.
Koray produced a small arts newspaper while running URA!, and when the venue closed last year, she decided to transform the broadsheet into a magazine. She recruited the stylist and British society regular Fiona Scarry, a close friend, to serve as fashion director, and the curator Nadim Samman to be editor. The first issue supports Koray's assertion that the scope of Near East extends beyond, well, the Near East. There's a feature on the Hong Kong art world, an essay on shamanism in Kazakhstan, and a moody fashion shoot by the photographer Jamie Morgan in which the models wear veils over their faces. "We really don't want to limit ourselves," Koray says.
While her interests and ambitions are global, Koray is also a booster of her hot hometown. Recently, she took over a former textile workshop in the once dilapidated Beyoglu neighborhood, which will serve as both a base for the magazine and an exhibition space. "It's a concern when you see cities heralded as the new thing and then dropped," she says. "But the fact that it's a semi-non-Western city that's only a two-hour plane ride from London makes me think that no matter where the art scene is in five years, Istanbul will remain a great place to be."