Miley Cyrus, Artist and Not a "Pop Star Dumbass," Requests "Actual Gallery" Showing for Her Art, Thank You
The singer, whom Jeffrey Deitch once compared to Mike Kelley, once again has her eyes set on the art world.
---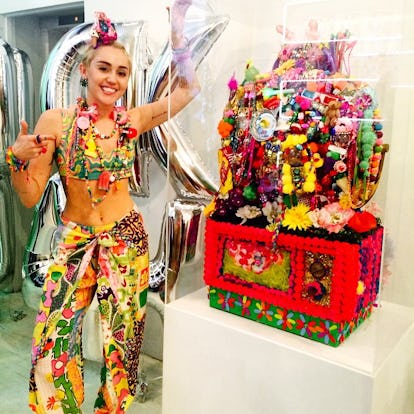 Courtesy of @mileycyrus
It's not every day that the curator, dealer, and former director of MOCA in Los Angeles Jeffrey Deitch heralds an emerging artist as "the real deal," but that's exactly what delcared Miley Cyrus to the scads of collectors who made their way to Art Basel Miami Beach in 2014—even comparing her "Southern outsider art" to that of another legendary industry name, calling it "very close to Mike Kelley."
The praise came after Cyrus exhibited some of her work at the fair's Hauser & Wirth booth (and played a raucous Basel concert organized by Deitch and hosted by Tommy Hilfiger at his Raleigh hotel)—and after Deitch even did a studio visit to her home in L.A.
It's been three years since that breakthrough—a time in which Cyrus has notably retreated from the spotlight, having declared 2016 to be her year of "chillin the f— out." Now that it's 2017, though, the singer is making a comeback with her single "Malibu" and a whole new, much less colorful look, though she's still sticking with her out-there neon trappings in the form of her arts and crafts, which in the past have manifested in bedazzled bongs and beaded bracelets reading words like "drugs" and "twerk," plus other assemblages that corners of the internet were quick to hail as simply "gluing stuff," "something a 3-year-old on acid might create," and an aesthetic that's "always been that of a horror-vacui MDMA flashback."
But like a true artist, Cyrus hasn't let any of the bad reviews get to her, as became clear over the weekend when Cyrus did an "Ask Anything" session with iHeartRadio, where she also revealed info like the names of all seven of her dogs, that she has no acting gigs coming up, and that sure, she'd collaborate with her up-and-coming younger sister, Noah. Then, Cyrus moved on to the serious stuff with another fan's query—whether she'd ever consider doing another art exhibition—to which she responded with "love your question!" as well as a resounding yes.
"I'd love to come to New York again and be able to show my art in an actual gallery," she said. "That's something I'd never done before, so I'd love to do it again."
The thing is, though, Cyrus actually does have something of an artistic pedigree, though it appears that in her eyes, Art Basel Miami, one of the world's premier art fairs, and Deitch, one of most respected names in the industry, don't qualify as legit.
Those have hardly been her only art world breakthroughs, either: Cyrus has also exhibited her collection "Dirty Hippie" at both V magazine's office gallery and Milk Studios, where some of her works, from headpieces and jewelry constructed of beads, fuzzy teddy bears, keychains and various neon bric-a-brac, also adorned the heads of models walking the runway for Jeremy Scott's 2015 collection.
"I had a bunch of f—ing junk and s—, and so instead of letting it be junk and s—, I turned it into something that made me happy," Cyrus said at the time of her earlier works, many of which consisted of miscellaneous items like joints and sex toys that fans would throw to her onstage. "To some people, it was just me gluing some things together. To me, it made me not a f—-ing pop star dumbass."
Despite all her qualms with the art world, though, Cyrus has found her own way around its rigid system: "Everything is an art exhibition for me—even just making, like, I feel like my music videos, getting to present those, that's my way of doing art," she said. "So I feel like my art is in everything I do—I feel like my album is obviously my art, it's my music, so I'm doing art right now," she added, moving her arms around animatedly.
Judging Cyrus's latest video for "Malibu," her works seems like they'll be a lot more chill from here on out. Still, get a sense of the singer's style with a look back at her past works, here.
Related: Miley Cyrus and Stefano Gabbana Are In an Instagram Feud
How to Instagram Like Miley Cyrus
Miley Cyrus Takes Lynn Hirschberg's Screen Test: