What Did Millie Bobby Brown, Sadie Sink, and the Queer Eye Guys Talk About at a Pre-Emmys Party?
If the pre-Emmys celebrations are any indication, the 2018 Emmys red carpet could be the most ambitious Netflix crossover event in history.
---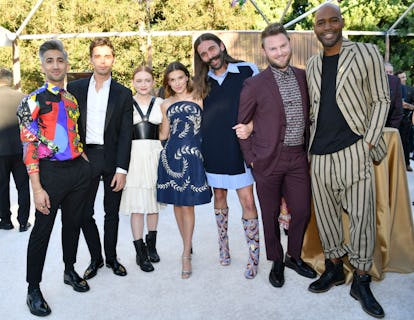 Emma McIntyre/Getty Images
From fawning over a meeting between Stranger Things' Millie Bobby Brown and 13 Reasons Why's Katherine Langford to baiting their fans with as much To All the Boys I've Loved Before content that can be curated, it is clear that Netflix loves a crossover between their franchises; just check the platform's social media accounts if you have any doubts about that. But forget occupying your time thinking about those Noah Centineo Netflix movie roundups (there are three of them, and sure, watch them all if you want). And while you're at it, forget about any Riverdale–meets–The Chilling Adventures of Sabrina fan fiction you may have sitting on the back burner of your mind. The real Netflix crossover event to look out for may actually take place at the 2018 Emmy Awards on Monday night.
If the pre-Emmy Awards parties that occurred over the weekend are any indication, Netflix may be about to troll us all once more at the 70th primetime awards ceremony that celebrates television's best and brightest stars and series. This weekend, Millie Bobby Brown and fellow Stranger Things cast mate Sadie Sink rubbed elbows and bumped shoulders with the entire cast of Queer Eye. The gang was all there—Tan France, Antoni Porowski, Jonathan Van Ness, Bobby Berk, and Karamo Brown—to pose for photos with the Stranger Things teens, and obviously to fan out over each other on social media.
The subject of conversation between the two teens and the Fab Five remains unclear, but knowing which archetype each guy falls under makes it easier to extrapolate. For example, Jonathan Van Ness is the "fun" one, so perhaps the Stranger Things teens both talked about Cardi B with him? If anything, he probably practiced a few Jonathanisms, like repeating, "Can you believe?" over and over again. Could Antoni Porowski have shared some easy avocado recipes in an attempt to connect with Generation Z? Or maybe the two fashion darlings—that would be Tan France and Sadie Sink—bonded over style tips for the upcoming awards ceremony, where the two Netflix series that employ them received multiple Emmy nominations (Queer Eye has already won three of them at the Creative Arts Emmys, which traditionally air the week before the big Primetime show). Judging from the photo of the crew that was released on Getty Images, Bobby Berk and Karamo Brown—arguably two of the more serious guys in the group—probably kept their distance and talked about grown-up things on the sidelines.
Though we may never know what exactly was discussed, it does look like they had fun dancing to Cardi B, according to Brown's Instagram.
Related: Emmy Nominations 2018: See Laura Dern, Millie Bobby Brown, and More Nominated Actors in the Pages of W