Mimi Is the French Bistro New Yorkers Didn't Know They Needed
Fine dining 20-something creatives can get behind.
---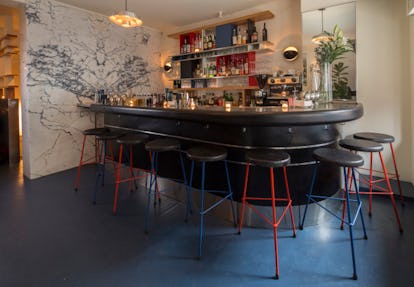 Brothers Evan and Daniel Bennett used to save up all their money to eat at famous New York French eateries like Le Bernardin. And then one day they got to thinking: "Where can we get this kind of food, but for less than $600?" They put their heads together with close friend Louis Levy, who also worked in restaurants, and realized the city lacked a relaxed French bistro, in both price and atmosphere. So last October, the three of them decided to open a small "French omakase" restaurant together in Greenwich Village. They named it MIMI, after the Bennetts' grandmother.
"We wanted to do a French restaurant because one, we didn't want to do an Italian restaurant," said Evan one Friday before the early dinner rush. "And two, as far as French food goes, there's Michelin star food and then there's bistro food; there's nowhere in-between style." MIMI's goal is to take classic French dishes like blood sausage, escargot, and lamb and pair them with international ingredients like uni as well as offal like calf's brain, tongue, and even cod sperm. Later this summer, they'll offer a more "approachable" lunch menu during the week, but for now, timid diners can enjoy a thick slab of French toast on Sundays.
"We were worried that we were going to get coined as an offal place," said Evan. "Not awful — offal, as in organ meat." But thanks to MIMI's 25-year-old star chef Liz Johnson, who hails from restaurants like Noma and David Chang's Má Pêche, diners rarely think twice about the adventurous menu, which is hand-written and changes weekly. "She's done wonders for us," said Evan. "We wanted someone our age who was just as hungry as we were. She took the original plan and was like, 'This is cool, but this is what I was thinking.'" And according to critics, her ideas are anything but awful.
Everyone involved with MIMI is under 30 years old, including model Camilla Deterre, who went to high school with the Bennett's in Long Island and did the interior design for the space, which is lined in blue velvet and white marble. "We wanted a place that would look inviting during the day, but also really sexy at night," explained Daniel.
"It's actually really hard to make a place known just as much as a daytime spot as a nighttime spot," continued Evan. "The only person who's really been able to do that is [Keith] McNally, and now Maya and Dean [Jankelowitz] at Jack's Wife Freda."
Against all odds (and there are many in this business), these young restauranteurs have managed to successfully find that balance, not only of day and night, but also old school and new school, young and old.
Calling card The red door and marble interior.
Tribes During the first rush from 6 p.m. to 8 p.m., old school diners from uptown who know the French classics. In the evening, 20-something creatives ranging from models to musicians. Bar crowd late night.
Prices Handwritten menu changes weekly. Small plates, $7 to $21; entrées, $26 to $39, and $80 for dishes to share.
The Basics 185 Sullivan Street, New York, NY 10012. 212-418-1260. Monday 6 p.m.-1 a.m., Tuesday to Saturday 6 p.m.-2 a.m., Sunday brunch 12 p.m.–5 p.m. Seats for drinks after 12 a.m. Weekday lunch hours coming soon!