Miquela Sousa, a Computer-Generated Influencer, Is Feuding With Another Computer-Generated Influencer Named Bermuda—and Nothing Is Real Anymore
Get ready to go down a wormhole.
---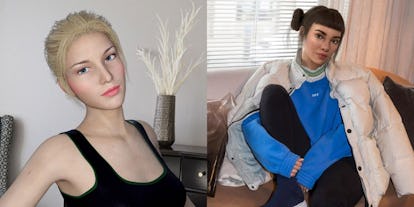 instagram
If Instagram is a reflection of the world we wished we lived in, then Miquela Sousa aka @lilmiquela is the realest thing on there. The only thing is, she's not real at all. The social media star, who has 1 million followers and counting, is computer-generated and no one knows who her creator is, although some Internet detectives have claimed to identify the man behind the character. But that's not even the most confusing part about Miquela: Right now, it's the fact that she's feuding with another computer-generated influencer named Bermuda.
Bermuda, a Trump supporter who worships Iggy Azalea and alt-right megaphone Tomi Lahren, hacked Miquela's Instagram page this week, emptying it of all posts. After doing so, Bermuda began posting her own selfies to it with captions like "You can't have your account back until you promise to tell people the truth." "Soooo… you're being lied to by a fake a-s person," reads another post. "Literally who is buying this for one second? Apparently a lot of you I don't blame you. My girl's a great liar."
After eight hours of posts like these, Miquela's Instagram was fully restored to its "Beychella" and thirst-trap glory. Her Instagram has yet to acknowledge the hack, instead highlighting her most recent post: a photo of Miquela from the back, at work in a recording studio. (Aside from being an influencer who has taken over Prada's account before its fall 2018 show, as well as a model who has appeared in everything from a lookbook for Area NYC to Paper and V, she is also an alt-R&B artist with two songs currently on Spotify; "Not Mine" even charted on the streaming service.) Miquela did note on Twitter that she was hacked, tweeting, "I'm so sorry for the scary SPAM on my IG page right now. Those views are the OPPOSITE of what I stand for and believe in."
Bermuda, however, has not kept quiet since Miquela regained her account. Yesterday, the blonde troll posted about hacking Miquela's account, sharing screenshots of her posts to Miquela's account and an ultimatum. Bermuda is giving Miquela 47 hours to seemingly reveal herself. "Soon there will be no lies and everything will be revealed," Bermuda wrote on Instagram. She has since started a countdown, posting at various time marks leading up to late tomorrow evening.
Here's where things get even weirder, if that's at all possible. This coming Sunday is the two-year anniversary of the creation of Miquela's Instagram account and, by extension, Miquela. Could this feud be building up to that? What is Bermuda planning to reveal? Miquela's creator's identity or identities? (We've reached out to a source close to her for intel.)
At this point, do the identities of her creators even matter? Miquela was created to highlight the distorted reality we all participate in on social media, where you don't actually know anyone's real self and everyone's persona is a construct. But when we finally know who's behind her, maybe that's when Miquela will become realer than all of us.