Miracle Workers
From Madonna's facialist to Lady Gaga's manicurist, meet the beauty world's next big names.
---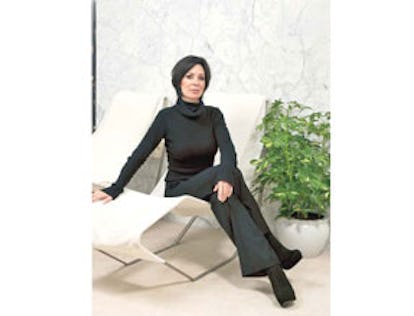 SKIN Dangene, aesthetician, New York
"I don't believe in foundation," facialist Dangene (above) has been known to announce to new clients. "And I'm going to get your skin in such good shape, you won't need it anymore." Originally from Southern California, the porcelain-complexioned Dangene, 52, is her own best advertisement. Her treatments always feature cleansing, micro-derm­abrasion (first dry, then wet, on both face and body), and cool blasts of hyperbaric oxygen. What's next depends on individual needs—a vitamin mask, an LED treatment, a little lasering. Last December, Dangene moved her practice 12 blocks south, from a two-treatment-room basement hideaway beneath a doctor's office to the posh Core Club, where her 6,000-square-foot lair comprises five treatment rooms, with room service. Her devotees—who include Madonna, model Jessica Stam, and Heidi Klum —will no doubt be thrilled (dangene.com). —Jane Larkworthy
NAILS Maki Sakamoto, manicurist, Valley, New York
For someone with such a boldfaced client list—including Gwen Stefani, Katy Perry, and Lady Gaga — nail artist Sakamoto (above) operates out of a surprisingly unassuming beauty parlor in NoLIta called Valley. Sakamoto learned her craft in her hometown of Osaka, Japan, and started out in New York at the low-key-luxe Jin Soon. Her current creations, however, are anything but understated. Think sculpted acrylics­ shaped like Hello Kitty; leopard-print talons; and plenty of glitter (212.274.8985).—Christina Han
SCENT Haley Alexander van Oosten, perfumer, Los Angeles
Van Oosten made her name with L'Oeil du Vert, a small, four-year-old collection of intense blends that are mixed at purchase and housed in beautiful wooden bottles. Now she's branching out with Raw, a fragrance line featuring local plants and woods in their "dirtiest, most primal" forms. "The Mayans prophesied that the flower would save humanity," says the Pasadena, California, native. "I decided long ago to put my cards on that" (loeilduvert.com; $600 to $900).—J.L.
HAIR Chelsey Pickthorn, colorist, Orlo Salon, New York
Last September, when Aussie model Abbey Lee Kershaw (above) went from brunette to icy platinum, the question on everyone's lips was "Who is her colorist?" The answer: Chelsey Pickthorn. The 26-year-old Portland, Oregon, native came to New York two years ago and, until last spring, worked under the eccentric but hugely talented color queen Laurie Foley in her quirky East Village space. In June, Pickthorn joined Orlando Pita's Orlo, where the posh clientele love her perfectly blended handpainted streaks (212.242.3266).—C.H.
YOGA James Brown, yoga instructor, YogaPoser, Venice Beach, California
"It makes me sad when I go to a crowded yoga studio and the only people there are beautiful, skinny, wealthy white ladies," says Brown, who recently opened an intimate studio called YogaPoser. With a kombucha urn in the kitchen and Diane, his Chihuahua, running around, the studio is a welcome antidote to the "Brentwood mom"–style places that dominate Los Angeles. Sting, Tipper Gore, and members of the Red Hot Chili Peppers have all sought Brown's personalized method. Currently, he's working on an interactive online platform so he can reach a wider audience. And while the name YogaPoser is obviously meant to elicit a laugh, Brown points out its literal side: "Yoga really is about the poses" (yogaposer.com).—Martha McCully
Dangene and Sakamoto: Hannah Whitaker. Sakamoto wears Giorgio Armani's viscose, acetate, and wool jacket and polyester and silk tunic; Kershaw: Maria Valentino; all others: courtesy of the subjects.