Miranda Kerr Was Inspired by Miley Cyrus to Do "Wellness Wednesdays"
The model and Kora Organics entrepreneur has a morning and evening skin-care ritual that's recently become sacred alone time.
---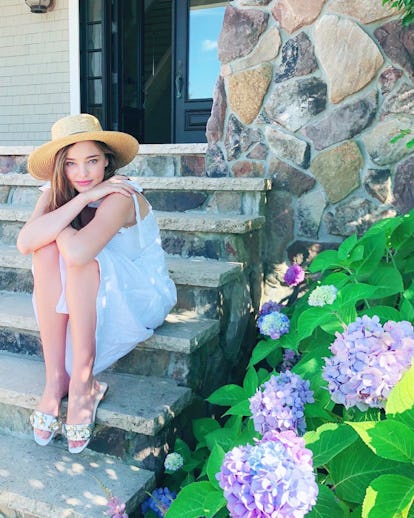 Miranda Kerr. Photo courtesy of Miranda's Instagram @Mirandaker
To coincide with the launch of W's stay-at-home Instagram challenge, we reached out to the people for whom a shelter-in-place order is an opportunity for creativity, a call to action.
During a moment when so many celebrities and public figures have been getting it wrong, this eclectic crew has managed to hit all the right quadrants of empathy, humor, creativity, and realness. They've been lifting our spirits between all the dark news and the somber moments, reminded us to laugh, provided us with a much-needed distraction from the very real fears and tragedies, and been caring and thoughtful about what they've put out into the world. While we can't compare them to the doctors, nurses and essential workers risking their lives daily, the people who have pivoted to making charitable contributions, stepping up as entertainers, and sharing mental health resources have added something positive to the conversation.
Miranda Kerr and her husband Evan Spiegel have donated $10 million to a number of charities and nonprofits in the Los Angeles area. She also launched a wellness-focused Instagram series, on which she consults with experts about tools and practices for well being.
I wanted to ask you about your Instagram series "Wellness Wednesdays." How have you seen them take new shape as quarantine goes on?
You know how Miley Cyrus has her "Bright Minded" live chat? She asked me to go and talk on there, and I was like, that's really cool, that she's dedicated her time to giving back to people, those who want to watch and listen to what she has to say, or whoever she's talking to. I'm very much into health and wellness, the mind, body, and spirit connection, and have been my whole life. So, I thought: Why not start a Wellness Wednesday where I have a live chat with a friend of mine from my little wellness black book and each person I have on is someone who inspires me? Sharing experiences and different tools and practices is helpful for me. I loved hearing things that work for people. I think we are going to continue Wellness Wednesdays, hopefully indefinitely.
Have you developed a morning ritual in quarantine?
My husband, regardless of quarantine or not, is up every morning on a weekday at 5:30 a.m. He's in his office downstairs in our house at 6:30 a.m. So it's my routine too. Then I have an hour to myself where I can do a few stretches, do a little meditation, do my little skin care ritual before the kids get up.
Is there any content that's inspired you during this time?
To be honest, it's been all systems go around here with three kids. There's no time to watch anything because if there's any time, my husband and I would rather talk to each other and connect about our days. Apart from that hour in the morning and then at nighttime, when they go to bed, I don't really have any kind of free time. I know it sounds cheesy, but I've been getting inspiration from my little morning and evening skin-care ritual. That's my little sanctuary for myself.
Can you tell me what your nighttime skin-care routine is?
The night and morning routines are very similar. I cleanse, mist, put on a vitamin C serum, and then oil and then moisturizer in the morning. At night it's nighttime serum, which is Kora's Noni Night AHA serum. The last thing I do before I go to sleep after I have cleansed, misted, put on serum, oil, and moisturizer is I put on my sleeping mask. It dries with a translucent veil and locks in all the moisture and you wake up and your skin is super hydrated and firm. Every other day, I use the turmeric two-in-one exfoliant—it's an exfoliant and a deep detoxifying mask all in one product.
It does sound like it's a real ritual for you.
It's the only time I have to myself. And we're doing a lot of work for Kora at home, too. We've got a new product coming and my mom actually shot the photos of me with our camera at home in the backyard for the campaign.
Any causes or organizations that you'd like to give a shout out to?
There are 29 organizations my husband and I have personally donated to, for those affected by the coronavirus. They focus on health, food security, housing, and financial hardships. From a Kora Organic brand standpoint, we've donated our products to UCLA, Cedars-Sinai, and hospitals in Australia. We're currently coordinating more products to be sent to NYU Medical Center and Children's Hospital in Los Angeles. Because they are wearing the face masks all the time, they've asked for specific products for their faces because they feel like it's getting damaged. And I'm speaking with Beauty United on how I can get involved. The organization has over 30 beauty brands that raised money to to support people on the front lines and get medical supplies and protective equipment to those who need it.
Related: Naomi Campbell on the First Thing She'll Do Once Quarantine Is Over