Kiss Kiss, Bang Bang
Don't let the blonde hair and pink guitar fool you. Country star Miranda Lambert takes on the good old boys with gunpowder and girl power.
---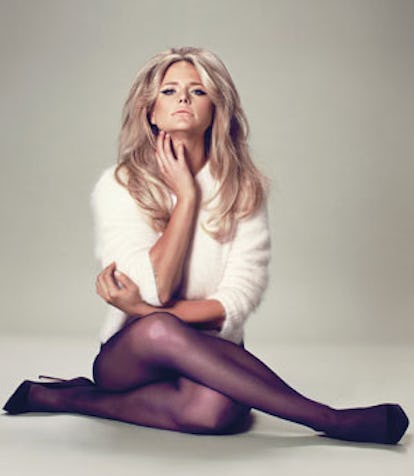 It's four hours before Miranda Lambert is due onstage at the BOK Arena in Tulsa, and she's running late. She's on her tour bus stuck in traffic, driving the two and a half hours from her farm in Tishomingo, Oklahoma, where she lives when she's not crisscrossing America headlining sold-out shows. Five years ago, Lambert bought the 750-acre property because it was 10 miles away from the 1,200-acre spread of country superstar Blake Shelton, her then boyfriend. Although Shelton and Lambert got married a year ago, making them country music's reigning power couple, Lambert didn't sell her farm. "Hell no," she tells me later. "We mostly live at Blake's, but, if you're pissed, 10 miles away is far enough. If we have a fight, I can say, 'Go home' or 'I'm going home.' "
That tough-chick-in-a-soft-package persona is Lambert's particular brand of girl power. From the beginning of her career, playing bars in her native Texas, Lambert, now 28, advocated an aggressive sort of female empowerment in her songs. She didn't write the usual break-up-and-shed-a-few-tears tunes—instead, the woman in ­Lambert's songs got her dignity back by torching his house and packing a gun. The ­message in her music has always been consistent: Be strong, be true to yourself, and don't be afraid to take on a man. "I ain't the kind you take home to mama," Lambert sings in "Heart Like Mine," her hit from 2011. "I ain't the kind to wear no ring."
And yet, while she stomps and rages, Lambert is an appealing contradiction. In the great tradition of country women like Loretta Lynn, Lambert is curvy and could look like the cheerleader she was in high school, but she resists the stereotype. "The tough-girl thing comes naturally to me," she says. "When I started out, I'd only wear jeans and tank tops. No dresses. I didn't want these dudes in the bars that I was playing to look me up and down because I'm a blonde girl with blue eyes. I wanted to be heard, not seen. That's how it all started."
When Lambert first appeared on the scene, country music, which, unlike any other genre, exists in an old-school, pre-Napster, radio-rules-and-fans-buy-records time warp, did not know what to think of her. She didn't fit any of the usual molds: Her singing and stance were a little too rock 'n' roll for conventional country radio. If anything, country was going in a softer, more pop direction. Female artists like Shania Twain, who was really a mainstream Top 40 singer masquerading as a country artist, had opened the door for new superstars like Carrie Underwood, who in 2005 won season four's American Idol, and Taylor Swift, who pushed a much friendlier form of self-acceptance than Lambert did. It is nearly impossible to imagine Swift, who grew up wealthy on a Christmas tree farm in Pennsylvania, aiming a gun at an errant lover. Still, Swift and her catchy, almost anthemic songs about teenage angst transformed country music. Her 2008 album, Fearless, was a multiplatinum, award-winning crossover hit. "Taylor Swift is a pop singer," Lambert tells me. "But she really helped country music. When she hit, I was thinking, Thank God Taylor's out there to show people we're not cheesy. Some people still think that country music is twangy and cheesy, and they pigeonhole us. But I thought if they're looking for Taylor's videos or songs, they might see or hear other people they like. If her fans are watching for her, they might like me too."
And they did: Lambert's career took flight in 2009, when Revolution, her third album, was released. Interestingly, the breakthrough hit, "The House That Built Me," was introspective rather than kick-ass. Lambert did not write the song, and it was initially pitched to Shelton. Lambert and Shelton were driving in his truck listening to demos for his upcoming album, and when she heard "The House That Built Me," Lambert started to cry. Shelton said to her, "You have to record that song." The lyrics tell the universal story of a lost soul trying to restore her emotional equilibrium by visiting her childhood home: "I thought if I could touch this place or feel it/This brokenness inside me might start healing," Lambert sings.
Lambert performed the tune at the Grammys in 2011 and not only won the award for Best Female Country Vocal Performance but also announced her presence to the entire music industry. "Everybody in the audience was crying," Lambert recalls. "When people heard 'The House That Built Me,' they said, 'That's not cheesy.' There's been a shift: Country music is popular music now. Every other genre wants to come over to our land."
"I'm so sorry "'m late," Lambert says as she walks into the "vibe room," a kind of hippie enclave that Jordan Powell, her tour manager, constructs backstage at every venue. Large, vaguely Indian batik sheets hang from the ceiling, and lamps are draped with scarves. A jukebox in the corner is playing Bruce Springsteen's "Born in the USA," and a bar is set up along one wall. Lambert is wearing jeans, a T-shirt with the word BEER written in different typefaces, and rubber rain boots in a leopard print. Her hair is piled up high on top of her head. She has a small silver gun on a chain around her neck, alluding to her other music project—Pistol Annies, a female trio­—which will be touring this summer. Despite the revolvers-with-wings tattoo on her forearm, Lambert is warm and immediately engaging. "I'm sorry I look like such a wreck," she says as she plops down on a worn leather couch. "We can't talk in my bus because a mouse died in there, and it smells awful," she says, laughing. "I have such a glamorous life."
She has left Shelton at home on his farm, with a dog she rescued the day before. "I named the dog Batman," Lambert says, showing me a picture on her phone of an adorable black and white Border Collie–ish mutt. "He was skittish when I saw him on the side of the road, so I lay down flat on the ground. And then he came over to me." Batman is Lambert's seventh rescue dog. He's staying with his daddy tonight," she explains. "We'll see how that goes. Kind of scary."
Shelton, whom The New York Times recently called "the most important and visible ambassador from Nashville to the American mainstream," is a handsome six-foot-five charmer with an outspoken manner and a roguish streak. As a judge on the television show The Voice, he has managed to be honest, analytical, and not homogenized. He recently said to the Times: "It's okay to offend somebody—and as a matter of fact, please be polarizing. If you're not polarizing, you failed, in my opinion. If you don't stand for something, how can anyone respect what you do?"
That authentic attitude (and his blue eyes) is what attracted Lambert to Shelton, who was married when they met, in 2005. Lambert had gained Nashville's attention in 2003 by coming in third on season one of Nashville Star, country's answer to American Idol. In 2005, she was asked to perform "You're the Reason God Made Oklahoma" with Shelton for a Country Music Television special. "I used to sing that song with my dad," Lambert says. "I knew Blake's music, but I didn't know him at all. We ended up hanging out and were friends for a while, but our chemistry made the romantic relationship inevitable." Lambert pauses. "It's been a roller coaster. He had to get a divorce. We were both trying to build our own careers. I moved from Texas to Oklahoma, which no one does. Before I moved, I called Blake and said, 'Look—are you planning on screwing this up? Because I'm not going to move all my crap to a foreign state if you're going to screw this up.' "
She was familiar with marital discord. For a time, Lambert's parents worked as private investigators, doing research on behalf of clients like Paula Jones in the Bill Clinton ­Troopergate scandal. Lambert still gets emotional when she talks about those early days with S­helton. "I knew he was married and off-­limits," she says. "We've been through a lot, but it worked out." On May 11, 2010, Lambert tweeted a photo of herself and Blake and the rock he had just placed on her finger. "Well…Ol' Blake finally got a brain!!" Lambert wrote to her followers. "And…I didn't say no!!! :)"
The wedding last May was in Texas, and the 560 guests, including some of the biggest stars in country music, like Reba McEntire and the members of Lady Antebellum, were required to leave their cell phones at the door. Venison, which Shelton and Lambert had shot themselves, was on the menu, and toasts were made with drinks in Mason jars. The bride wore her mother's 1979 Gunne Sax wedding dress, and the groom wore a new pair of Wrangler jeans. "I just finished writing the thank-you notes," Lambert says. "I'm saving all the gifts in the basement for when we build a house together. We'll open them all again."
Although Lambert has been on the road since January, Shelton has not seen her perform on this tour. "We don't want to be this matchy cutesy­ country couple," she explains. "He's busy, and I'm busy. We've been married a year, and I think we've only spent four months ­together." They did make a smashing appearance at the Grammys in February. They were seated in the front row, next to Lady Gaga, and the juxtaposition was striking: Gaga was in full regalia, with a black net veil across her face and a walking stick. "I had to introduce Blake to Lady Gaga," Lambert says. "She looked at us like we were freaks. Blake had this scared look on his face. I'm like, 'This is my husband,' " she says, laughing. "Gaga was nice. I told her she should have turned her cane into a flask so she could have a drink during the show."
During the Grammys, Lambert tweeted about her new friend Gaga, her love for Adele, her confusion over Nicki Minaj's performance, and her outright disgust with Rihanna's abuser, Chris Brown. "I don't get it," she tweeted. "He beat on a girl." In concert a few nights later, in Amherst, Massachusetts, Lambert held up a sign that read TAKE NOTES CHRIS BROWN and then sang her hit "Gunpowder and Lead." The chorus begins "His fist is big, but my gun's bigger/He'll find out when I pull the trigger."
"I may look small and blonde," says Lambert, who is five-foot-four, "but I cannot tolerate men who beat up on women. It is never okay." She puts some pale pink gloss on her finger and applies it to her lips. At moments like this, the contrast between Lambert's gun-toting, out-for-justice side and her pink-is-my-favorite-color side is particularly vivid. "It's tough for a girl to be a headliner in country music," she says, after a pause. "For instance, I can't get a sponsor." She points to her beer T-shirt. "I love alcohol! You would think a beer company would sponsor me." Lambert gets up to leave. She does her own hair and makeup for every show. "I'm my own damn sponsor," Lambert says, rather proudly. "And I put on my own eyeliner. A woman's work is never done."
Before her set begins, the singer projects a montage of memorable women, from Oprah to Betty Boop to Jackie Kennedy to Bettie Page, on the huge screens that flank the stage. Beyoncé's "Rule the World (Girls)" is blaring, and the 12,000 people in tonight's audience (mostly women from 6 to 60) go into a frenzy. Lambert hits the stage like a gladiator—in a short black T-shirt dress with a wide studded belt riding low on her hips. She's wearing rust-colored fringed suede knee-high boots, and she's playing a pink electric guitar. She introduces "Baggage Claim" by saying, "I wrote this song when I was pissed off. Now that I'm married, I know what it is to be really pissed off." The crowd erupts in cheers and sings along.
It's a ferocious show, full of fire and defiance—much more aggressive than most rock concerts. Except for an emotional rendition of "The House That Built Me," Lambert attacks the stage as if it were territory that needed defending. Her sweet smile, her puppy-rescuing side, is not in evidence. "People ask me, 'Do you hate guys?' " she says to the audience. "And I'm like, no! But if they give me trouble, my father taught me how to shoot." The crowd screams—this is how a revolution begins. "You rule the world, girls," Lambert says before leaving the stage. "Don't ever forget it."
Lyn Devon angora-blend sweater. Falke tights; Manolo Blahnik pumps.

Photographer: Santiago & Mauricio Stylist: Patrick Mackie
Burberry Prorsum beaded-neckline knit top. Jennifer Behr headband; Yves Saint Laurent belt.

Photographer: Santiago & Mauricio Stylist: Patrick Mackie
Stetson hat; Mokuba ribbon (around neck).

Photographer: Santiago & Mauricio Stylist: Patrick Mackie
Diane von Furstenberg embossed lambskin jacket. Rago Shapewear nylon and spandex bra. Falke tights; stylist's own necklace.

Photographer: Santiago & Mauricio Stylist: Patrick Mackie
What Katie Did sheer lace bra.

Hair by Teddy Charles for Orlo Salon. Makeup by Fulvia Farolfi for Chanel.

Manicure by Nikki Spalaris for Escape Spa. Photography assistants: Alessandro Zoppis, Daniel Meigs, Joel Micah dennis. Fashion Assistant: Victoria Chase. Photography assistants: Alessandro Zoppis, Daniel Meigs, Joel Micah dennis.

Photographer: Santiago & Mauricio Stylist: Patrick Mackie
Hair by Teddy Charles for Orlo Salon. Makeup by Fulvia Farolfi for Chanel. Manicure by Nikki Spalaris for Escape Spa. Photography assistants: Alessandro Zoppis, Daniel Meigs, Joel Micah dennis. Fashion Assistant: Victoria Chase. Photography assistants: Alessandro Zoppis, Daniel Meigs, Joel Micah Dennis.