Miroslava Duma's Transphobic Comments Are Addressed in Open Letter By Andreja Pejic
Fashion hasn't always celebrated, to quote @miraduma "people like us."
---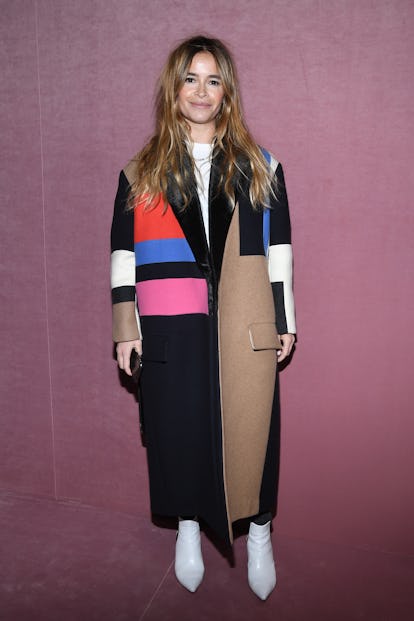 Pascal Le Segretain/Getty Images
Miroslava Duma is not having a good week. After celebrating her friend, designer Ulyana Sergeenko's overt racism before ultimately apologizing for it, the Russian street style staple has found herself in new trouble with the transgender and genderqueer communities, specifically model trailblazing transgender model Andreja Pejic. Pejic posted a video of offensive remarks Duma made in 2012 during a presentation, where she called transgender identity a "trend" that she hopes "fizzles out."
"Say there's another weird person calling himself Andreja Pejic… Who else can you even name here? Thank God, there aren't that many of them! And I hope that this trend fizzles out," Duma said. Then, when asked if she would ever feature the accomplished model on her website Buro 247, Duma said, "No, we would never publish someone like Pejic. We have censorship at Buro. We're very concerned about the beauty and purity of the things we publish. And, honestly, just like some wonderful people like Paris Hilton or Kim Kardashian would never be posted on our site, so it is with such… Boys… you mentioned. Because… we respect our readers too much for that." (Never mind that Duma has befriended Kardashian as well as her husband Kanye West in the years since).
Pejic, at the time, had not publicly come out as transgender, but had already made a name for herself in fashion as an androgynous model who worked between both mens and womenswear.
Rather than simply condemn Duma's hurtful words, which were recently unearthed in the wake of her and Sergeenko's ignorant racism, Pejic took the opportunity to share her thoughts about inclusivity in fashion, and how it's changed over the years since she started in the business. "I woke up to a video yesterday, where a woman by the name of Miroslava Duma said some pretty ugly things about @bryanboycom and me during a conference (scroll right to see). I wont say it wasn't hurtful," Pejic wrote on Instagram. "However instead of focusing on this blatant ignorance, I couldn't help but realize the contrast between the state of our business today in comparison to 2012, the yr of this video. Fashion hasn't always celebrated, to quote @miraduma 'people like us.'"
Pejic is certainly right. Last year proved that even in a year where transgender casting was at a peak in fashion, the trans community is still lacking complete representation — as well as altruistic representation that's not brands profiting off their so-called "inclusivity" as Rihanna noted last year when a fan asked her to cast more trans models for Fenty Beauty.
The beloved model also took the opportunity to reflect on her own successes, writing, "Today I can say I've walked for iconic designers like @MarcJacobs and even landed on pages of American Vogue as none other than myself. However for a long time I didn't believe that I was deserving of a firm place in fashion. I remember when I was one of only two people representing a specific 'trend' that many people would now place under the title 'gender diversity in the fashion space.' Circa 2010 my friend @LeaT and I found International media attention on the one hand and no small amount of ignorance and scorn on the other. Today we are part of a movement of unique talent that is smashing the old categories that once stood and proudly displaying a spectrum of age/color/gender/class. @miraduma 's hopes that "this trend fizzles out quickly" have not been realized. I am thankful I got to stick around!"
Duma has since apologized for her transphobic comments in a note on Instagram, writing, "I am deeply ashamed by the comments I made in 2012. Frankly, I'm as shocked as anyone to be viewing that footage today, and see for my own eyes how utterly offensive and hurtful my actions were back then. And when I consider that my comments were made in front of an audience of students — young people with open minds and positive attitudes — it makes them seem all the more insensitive and out of touch." Duma says she has changed though. "The person I was six years ago is not who I am today," she says, ignoring the fact that she just recently reveled in a note from a white person sent to her, a white person, that addressed her with the n-word (a Kanye lyric). "I deeply respect people of all backgrounds: I believe in equality for everyone, regardless of ethnicity, gender identity, religion or sexual orientation."
Peijic addressed Duma's apology in her own note, writing, "I understand that an apology has been issued and I DO think people should be given the chance to grow, change, overcome their ignorance. To my lil sisters, bros and non binary siblings who don't have the resources to fight back, to change schools, pay for medical care or the support of thousands of followers and who experience cruelty directed at them only because they have the guts to follow their hearts and minds in the hope of an honest, happy life please remember, chin up ALWAYS! Evolution is no stranger to our cause and one day we'll see revolution❤️"
Related: Daniela Vega Is the Fantastic Transgender Woman in the Oscars' Best Actress Race
Joy & Remembrance: W's Favorite Photographers Celebrate LGBT Pride Through Their Pictures
Photo by Tyler Mitchell. Creative direction Tyler Mitchell and Noah Dillon.
"Warhol always knew a great beauty when he saw one." Jack Pierson, Tabboo!, Hapi Phace, and Jimmy Paul at an NYC pride parade in 1983. Photo by Andy Warhol.
Edie Windsor in Montauk in 2013. First published in All-American Journal. Photo by Bruce Weber.
"'Kiki' is a world where LGBTQ youths of color are empowered by staging dance competitions. It provides a safe haven, love and support for queer, trans gender, black and Latino young people. Kiki is a political statement. I photographed these Kiki dancers at the premier of the movie 'Kiki' in East Harlem in 2016." Photo by Janette Beckman.
Ben in Arad, July 2016. Photo by Mayan Toledano.
Michael, 2015. Photo by Thomas Whiteside.
Ava McAvoy. It was a collaboration. One of many with Nicola Formichetti. First published in Free Magazine, March 2016. Photo by Richard Burbridge.
"Terri Toye was our muse and the fav of Stephen Sprouse – even did the catwalk for chanel in Paris! At age 16 she opted to become a girl! Transgender is not new neither is a trend! Terri Toye is now active in Reconstructing houses damaged by Hurricanes down south I styled her as a girl the first times she needed those clothes!" -Maripol. Photo by Maripol.
Swim at Dusk, Cuba 2015. Photo by Sean and Seng.