Rihanna Criticizes Brands for Exploiting Trans People as "a Convenient Marketing Tool"
"Too often I see companies doing this to trans and black women alike."
---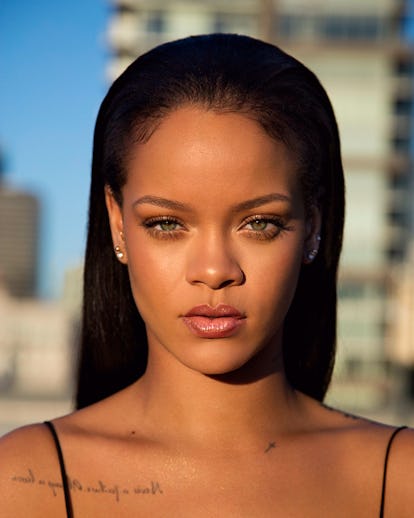 Rihanna
This has undoubtedly been Rihanna's year, thanks to the launch of her massively celebrated Fenty Beauty brand and overdue recognition for her humanitarian efforts. But, just with a month left to go, the multi-hyphenate managed to add one more bullet point to her excellent 2017: She delivered a thoughtful criticism on the representation of trans people in the fashion and beauty industry. Rihanna's wise words were prompted when a fan suggested the pop artist turned beauty mogul cast trans models in her next campaign.
"I've had the pleasure of working with many gifted trans women over the years," she replied, "but I don't go around doing trans castings!" She continued, "Just like I don't do straight non trans women castings. I respect all women. Whether they're trans or not is none of my business."
Rihanna elaborated on the paradox that exists for not only trans models but models of color as well: There is a fine line between inclusivity and exploitation and, sometimes, when it may seem a company is attempting the former they can be doing so with selfish motives. Rihanna took aim specifically at brands who put forth token campaigns. "I don't think it's fair that a trans woman, or man, be used as a convenient marketing tool," she wrote. "Too often I see companies doing this to trans and black women alike. There's always just that one spot in the campaign for the token 'we look mad diverse' girl/guy! It's sad!"
After she concluded her reply, the fan apologized to Rihanna saying, "I perfectly understand your point of view. Sorry if I sounded critical at all," to which she replied, "You absolutely didn't babe! Just didn't want you to think I intentionally leave anyone out!"
Of course, anyone who's glimpsed Fenty Beauty's gloriously inclusive campaigns wouldn't make that assumption. The first images of Fenty Beauty featured a truly diverse group of models—with more people of color than white models—from Paloma Elsesser, Duckie Thot, Slick Woods, to Halima Aden and Leomie Anderson. Not to mention, Fenty Beauty's offerings delivered on that same promise of inclusivity with an unprecedented 40 shades of foundation to match most skin tones, including albino skin.
As Rihanna explained at the time of Fenty Beauty's launch, "I wanted things that I love… There needs to be something for a dark-skinned girl; there needs to be something for a really pale girl; there needs to be something in-between."
Related: Rihanna Owned 2017 (Without Even Releasing an Album)