Misha Nonoo's Instagram Takeover
The fashion designer opens up about her social media show.
---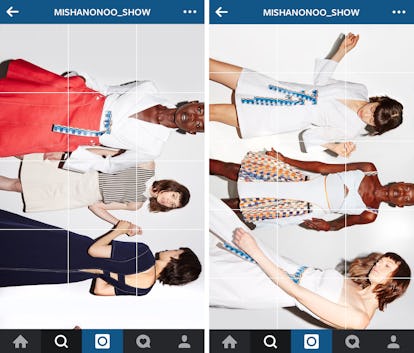 As fashion week becomes increasingly digital, designers are finding new ways to convey the physicality of a collection via social media and the Internet. New York-based designer Misha Nonoo did so this season with a show presented solely on Instagram, which you scroll through by turning your phone sideways. This slight shift in what is now an obsessive routine was reason for pause amidst the endless feed of blurry runway shots and street style. "Instagram is a storytelling platform, which is what you want to do when you show a collection," Nonoo explained.
Nonoo was inspired to break from the traditional show format after meeting with the Instagram team at their headquarters in California, where she was also visiting Sheryl Sandberg. "I shared with the team my frustrations with traditional runway shows—which I've loved and have been such a great experience overall—but you put on this elaborate show that's so location specific and you miss a lot of people," she explained. "Like the fashion director at Barneys might not make it because they're five minutes late and the show has started. You go to such huge lengths and it's so exclusive."
Although a separate account will be created for the Insta-show, Nonoo already has a robust following thanks to a network of socially active friends, who she usually recruits to take photos front row at shows. "But it can be a blurry runway shot and not the best representation of the collection," lamented Nonoo. "We're still working with influencers to promote the collection, just in a new format." Influencers who posted photos of themselves wearing Nonoo's Spring 2016 collection included Instagram's own Eva Chen, W's contributing fashion editor Giovanna Battaglia, Danielle and Laura Kosann of The New Potato, Audrey Gelman, and many others.
Nonoo is no stranger to the fast-paced digital world. "My husband started the online auction house company Paddle8, so I'm surrounded by tech daily," she said. "Thank god, all those hours spent on Instagram have finally paid off!"
Photos: Misha Nonoo's Instagram Takeover