The Miss America CEO Is Being Accused of Slut-Shaming and Fat-Shaming the Winners in Emails
The alleged behavior dates from at least 2014.
---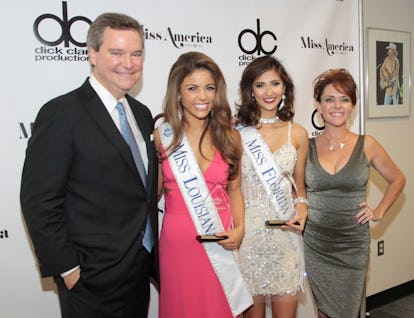 Donald Kravitz/Getty Images
As high-profile men everywhere are exposed for alleged sexual assault and harassment, the Miss America pageant is receiving accusations of its own. On Thursday, HuffPost obtained three years' worth of emails that reveal past winners are being slut-shamed and fat-shamed behind the scenes, in messages allegedly written by the CEO of the Miss America Organization and several board members.
According to HuffPost, Miss America CEO Sam Haskell allegedly exchanged vulgar emails attacking Miss America winners' bodies and sex lives since at least 2014. He was allegedly enabled and even joined in some cases by board members Tammy Haddad and Lynn Weidner, as well as the Miss America pageant telecast's lead writer, Lewis Friedman.
In one email obtained by HuffPost, Haddad allegedly called some former Miss Americas a "pile of malcontents and has beens who blame the program for not getting them where they think they can go," encouraging Haskell to "punish them when they don't appreciate what we do for them." This email was then allegedly forwarded by Haskell to a Miss America executive with a note calling this wise advice.
One alleged correspondence shows Haskell forwarding an email he received about former winner Mallory Hagan's sex life to Friedman, commenting, "Not a single day passes that I am not told some horrible story about Mallory." Friedman then allegedly replied, "Mallory's preparing for her new career … as a blimp in the Macy's Thanksgiving Parade," adding "ps. Are we four the only ones not to have f—ed Mallory?" Haskell's alleged response read, "It appears we are the only ones!" and said that he'd told the mother of someone he says Hagan had slept with that "he needs to have a blood test because we lost count of the number of men she slept with at 25."
Another email thread about Hagan attacks her weight. In response to a photo of the former Miss America winner, Haskell allegedly wrote, "OMG…why does he want that?????" according to HuffPost.
But it wasn't just name-calling, according to HuffPost. In December 2015, Haskell allegedly began writing that Hagan was "viciously and cruelly" attacking him and his family. Haddad's alleged reply read, "It is ridiculous but she is not going to stop. She has no control. I think u should hire an investigator to get something on her." Haskell then allegedly wrote, "Threatening her won't work and we already have 'enough info on her' to shut down Ft. Knox…..ugh. I really think the best way is to shut down her social media, and convince the Formers to ostracize her." Weidner, another board member, then allegedly responded, "I wish I had an easy answer to this dilemma. If we can prove a direct connection between MH and specific instances of cyber bullying, we could at least threaten her with a lawsuit right? I do believe that our anti coaching initiatives are already impacting her business. And that our policy of ignoring her is driving her crazy!"
According to HuffPost, Hagan was then prevented from coaching future Miss America contestants and eventually her coaching business fell apart.
In a statement to HuffPost, a Miss America Organization spokesperson wrote that Friedman had been let go after an investigation. "The Miss America Organization Board of Directors was notified about the concern of inappropriate language in email communications several months ago," the statement read. "Consequently, the organization's Board of Directors took the allegations of inappropriate comments very seriously and formed an investigative committee. As a result of the investigation, the Board directed the organization terminate the relationship with most egregious author of inappropriate comments. In addition, the Board has started the process of instituting additional policies and procedures for communication. The Board has full confidence in the Miss America Organization leadership team."