Introducing Miss Grass, the Goop of Cannabis
The chicly curated head shop is destigmatizing cannabis consumption.
---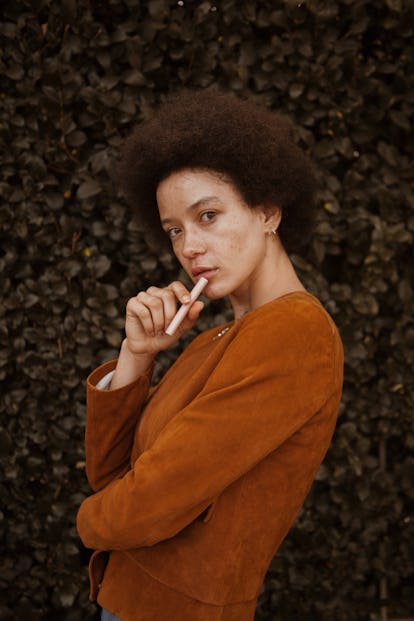 Miss Grass/Kanya Iwana
Long gone are the days of sketchy head shops billowing with nag champa. Over the past year, as recreational marijuana has become legal in, now, nine states, the culture around it has shifted from stoner bros to aesthetically minded users in search of health and wellness. In the process, the idea of the stoner has evolved, too, thanks to the demystification of cannabis use by brands like high-end vaporizers Ghost and Dosist; MedMen, the Apple store of weed, as it's often referred to; Broccoli, an Instagram-friendly take on High Times for women; and most recently, Miss Grass. Launched in January, the online head shop, which pairs its highly curated offerings—an Olafur Eliasson-inspired $90 ashtray, ornate $230 bongs shown as vases with roses, and 24k gold rolling papers, among them—with educational content, is destigmatizing cannabis consumption.
"Our mission is to normalize cannabis," says Anna Duckworth, a Dosist alumna and co-founder of Miss Grass along with Kate Miller. "Our hypothesis is that if we can make it seem as normal as creating your adaptogen tonic or your bowl, then we can bring you into the community." Weed-tinged adaptogen tonics are just one of the health and wellness recipes they've shared that makes Goop an apt comparison to Miss Grass. Other topics they've covered that could have emerged from the webpages of Gwyneth Paltrow's cult lifestyle site include an educational piece on THCA, a cannabinoid few know exists; making juice and pesto out of fresh cannabis leaves (which, for the record, doesn't get you high because weed's psychoactive properties are only unleashed once it's dried and heated); what to do if you become paranoid when you smoke and how to avoid it; and how to make a turmeric CBD tincture. "Turmeric is really hot and so is CBD, but no one thought to put them together," says Duckworth in between sips of an iced tea beneath the Malibu sun. The fact that we're talking about the intersection of cannabis and health and wellness at Soho House's Little Beach House, as waves crash on the shore and dolphins swim past us, is not lost on either Duckworth or Miller.
"When we're talking about self-care and well-being, we're talking about serenity and simplicity, and all of these things that make us feel nourished," Duckworth says. "Obviously, you can feel that in how we've put the brand together." Inspiration-wise, Miller and Duckworth built their brand with companies like Goop, Into the Gloss, and Glossier in mind. Aesthetically, Miss Grass comes across as though Solange curated a cannabis store; their Instagram is a meticulous collection of striking women partaking in cannabis and united by a pastel palette. The only discernible difference between those other brands and Miss Grass is that it's doing self-care through "a green lens," as Duckworth puts it.
It was the idea of a community formed around cannabis that inspired Miller to buy the domain for Miss Grass 10 years ago when she was a student at USC, working in a then-medical marijuana dispensary. "I worked at a dispensary my junior year because I was fascinated by it," says Miller, who spent the following decade in the entertainment industry, assisting the former co-chair of NBC entertainment and later running brand partnerships for Lorne Michaels of Saturday Night Live fame. "At this point, there was no product that spoke to females. I remember learning how to roll a cross blunt. It was aggressive stoner culture." But the way Miller and her friends were integrating weed into their lives was much different. She noticed the disconnect and an idea was lit inside her.
"The stoner that people have come to know," says Duckworth, "is the Seth Rogen, what we've been shown in mainstream media. Unfortunately, that's the image of cannabis consumption that's been perpetuated and ingrained in the zeitgeist." But, as Miller notes, "There's a lot of ways of using cannabis, and many don't even get you high." On Miss Grass's website you can find many of these: There's CBD-infused lip and skin balm by Vertly, a pain relief healing stick from Wildflower, CBD lube for women by Foria (which, yes, really does work), and CBD facial serum from Ildi Pekar, to name a few.
"There's not a weed leaf anywhere close to our logo," says Miller. "And there never will be." There are tiny weed leaves, however, on the ear lobes of Duckworth, designs she got from Etsy, and on Miller's necklace by the Israeli designer Jacquie Aiche. "We had them before we met," says Duckworth of their coordinated jewelry, which they each pair with jeans and a T-shirt. Outside of those tiny emblems, they don't fit the stoner bill.
"We're not huge stoners at all," says Duckworth. "But cannabis is an important part of our lives. We consume it in different ways." They call themselves "conscious" weed consumers "in the same way we think about the kind of food we're going to eat, how many hours a night we're going to sleep, and what adaptogen tonic we're going to drink this morning. Cannabis folds into all of that as another thoughtful, alternative medicine, or a replacement to a glass of wine."
They're also conscious weed advocates. While many of the upscale brands new to the cannabis marketplace—a $6.7 billion industry in 2017, according to Forbes— have profited off marijuana legally, there are thousands of people, many of them minorities, who have been incarcerated and/or had their lives negatively altered because of the drug."From a position of white privilege, I didn't realize the history of cannabis, because we don't like to talk about what's really happening with the war on drugs and what it really was," she says. "What's the deal with all the people in jail right now and all the people who have been killed and all of the families who have been torn apart? Personally, and Kate shares this, now the advocacy is about this sociopolitical and social justice thing that needs to happen. That's another component of the education." What she's getting at is that now that the weed industry is profitable —for many white people—it is still at the expense of minorities who've suffered for years. "I think it's our responsibility to be very vocal about it and we use that platform to amplify those voices, knowing there's going to be a lot of criticism just because we're white girls," she says. They've also looked to diversify within their own hires, and are in the process of organizing a conversation with the nonprofit Cage-Free Cannabis, which seeks reparations from the war on drugs.
For Miller, the issue is a personal one. "My brother got kicked out of high school for having the smallest amount of cannabis, not even at school," she says. "It put things in perspective of how backwards our society is. We encourage drinking, but I've never seen negative things from cannabis, and it was so shunned in the community and pop culture. I got him to walk at his high school graduation."
Duckworth's connection to cannabis is more medical, as she uses it to cope with celiac disease. "Cannabis has been really instrumental in bringing down my inflammation and not making me a completely neurotic psychopath," she says. "I can socialize and be with my buds and have great sex with my partner… Miss Grass speaks to everyone. Come as you are; we accept you as who we are."