LA Story
The annual gala at the Museum of Contemporary Art in Los Angeles has become not just one of the most important events in the art world but also among the most fun. This year artist Doug Aitken curated an evening with performances by superstar musicians as well as rodeo cowboys and cattle auctioneers. Jeffrey Deitch, the museum's director, answers our questions.
---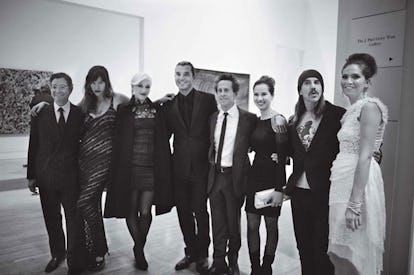 Who: "Daft Punk, Gwen Stefani and Gavin Rossdale, Will Ferrell, Chloë Sevigny, Paz de la Huerta, Kirsten Dunst, Kate Bosworth, Dasha Zhukova, Ed Ruscha, Vera Wang…"
What: "The Artist's Museum Happening, the Los Angeles Museum of Contemporary Art's annual gala, as envisioned by artist Doug Aitken. It was cochaired by Maria Bell and Eli Broad and sponsored by Chanel Fine Jewelry."
When: "November 13, 2010."
Where: "We closed off the street in front of the museum and constructed a gigantic tent that could accommodate 1,000 people."
Why: "The main reason was to embrace the community around the museum and its patrons, but we asked Doug to reconceive the conventional fundraising dinner and transform it into an art experience. He was involved with the architecture, the graphic design, the program of performances—including Devendra Banhart, Beck, and Caetano Veloso—and even the food."
Beck, Caetano Veloso, and Devendra Banhart.
Formula for a good party: "I was lucky to have been to Studio 54 and the great parties in New York in the late Seventies. What made them so exciting was the mix—bringing the most interesting new voices in music and the most exciting new artists together with titans of industry, in a context where they could talk."
Person who really made an impression: "I was so happy to see Jeff Koons and his wife, Justine. Jeff really loved Doug's conception of the gala."
Person you wished had crashed: "It would have been amazing if Bob Dylan and Leonard Cohen had joined the jam session."
Dead person you wish could have been there: "Dennis Hopper—he really embodied this joining of art and film and music."
Worst moment: "Some of the guests were seated at Doug's Sonic Tables, which also function as musical instruments. But there are always people who aren't satisfied with their seat. Let's just leave it at that."
Most exciting moments: "Doug found this guy, a rodeo cowboy who manipulates whips and lassos into extraordinary dance routines, to be part of the performances. He also organized an 'abstract' auction with cattle auctioneers—it was an incredible symphony. Some people got so caught up in it that they didn't realize it was a make-believe auction—they thought they were actually bidding on Doug's Sonic Tables. One woman was telling her sister: 'Put your hand down! Stop bidding!' She got so caught up in the frenzy."
Hangover quotient: "Maria Bell got a donation of organic wine from Napa for the event. The secret of organic wine is that you don't get a hangover. It's true, I swear!"