Style Notes: Christina Kruse
German-born, New York-based model Christina Kruse (above) has been doing plenty more than storming the catwalks for designers like Marchesa and Louis Vuitton and starring in editorials for Vogue, Interview and I-D. Long immersed in...
---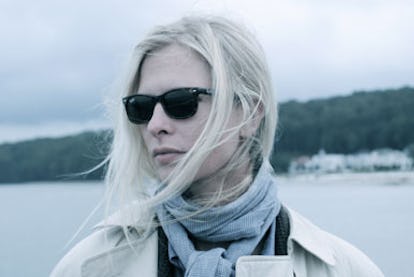 Here, Kruse shares her love of men's shoes and B & H and her disdain for Crocs.
Define your style in three words: Classics, possible twist within the classics, comfortable.
Daily uniform: Trousers of sorts, t-shirt, cardigan/v-neck and long dresses.
Greatest hits: Margiela dress, vintage 40's dress, Prada cardigans.
Preferred footwear: Marc Jacobs men's shoes, Alaia flats, Converse sneakers.
Finishing touches: Earring, earrings again and a necklace.
Nighttime look: My 40's "all around dress" as I call it—works for everything and anything. I bought fabric to have it re-produced…ideally 5 of them and I am set.
Best recent discovery: A fragrance actually called Attache-moi. Normally I wear Hermès Jardin du Mediterranee and Ulrich Lang's Anvers 2.
Favorite stores: B&H…and Forever Obscura.
Style pet peeve: Crocs—I have never seen anything more… [I'm] missing the words.
Style icons: Hamish Bowles—I have always admired his sense of style.
Last purchase: An Uglydoll or however you call these things. My son, August, seems to have his mind made up that he should own very single one of them.
Lusting after: Poltrona Frau's black Chester One—lusting indeed.
Favorite haunts: Besides my home, the restaurants Casimir and Matsuri. I also like the Brooklyn Aquarium—the jellyfish house is kind of great in there.